Woman's Tearful TikTok Rant: "Who Fought to Get Women Jobs?"
Women's right to fair job opportunities is one of the most challenging sociology battles still being fought. Decades ago, women were expected only to work within the confines of the home.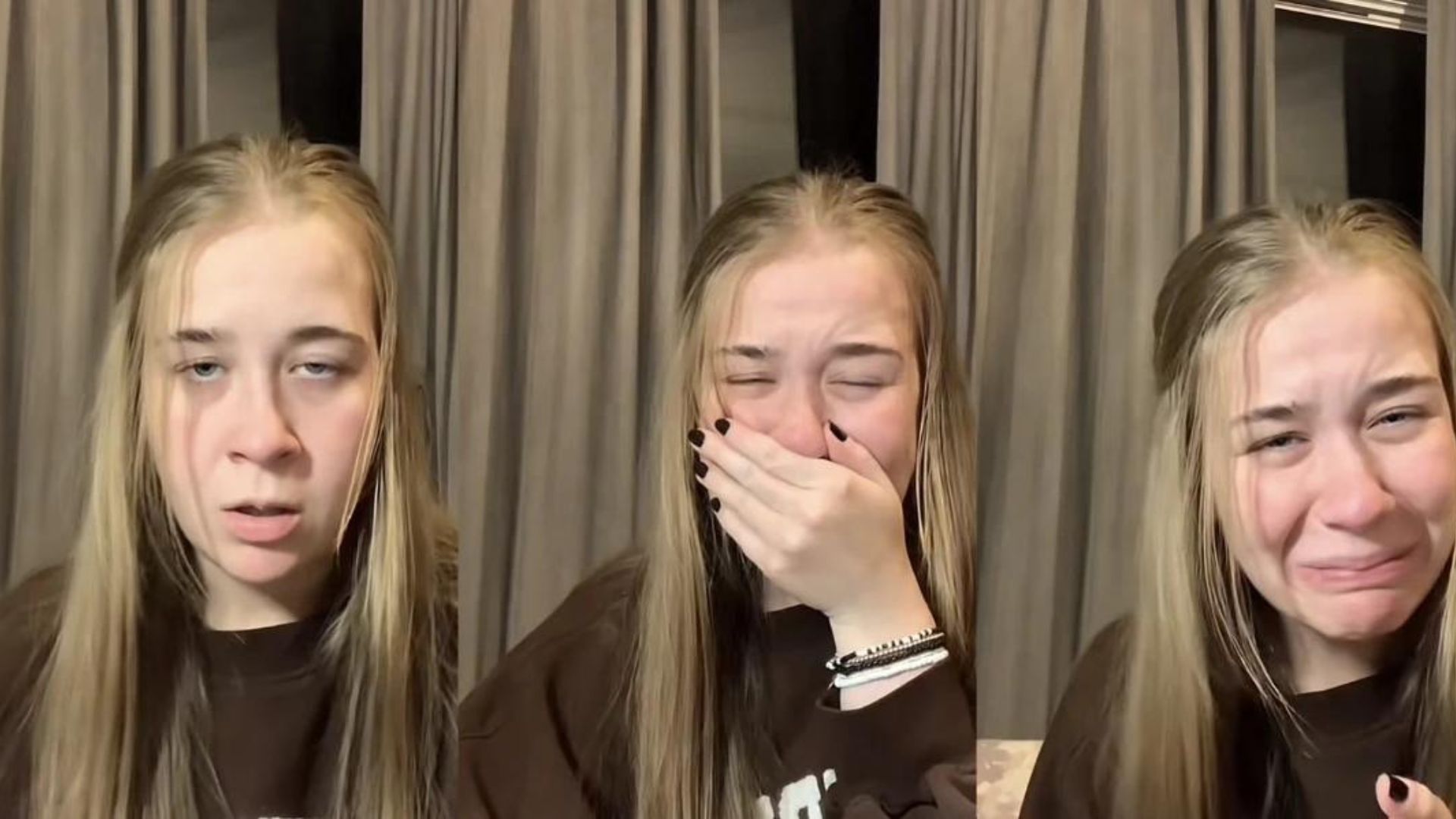 Women in the workforce early on had labor laws against them until women's rights activists fought for the rights of women who wanted to be independent.
A Shocking Viral Video
One woman known as Tay (@taymcconish) on TikTok took to social media to express her frustration at the turn of events.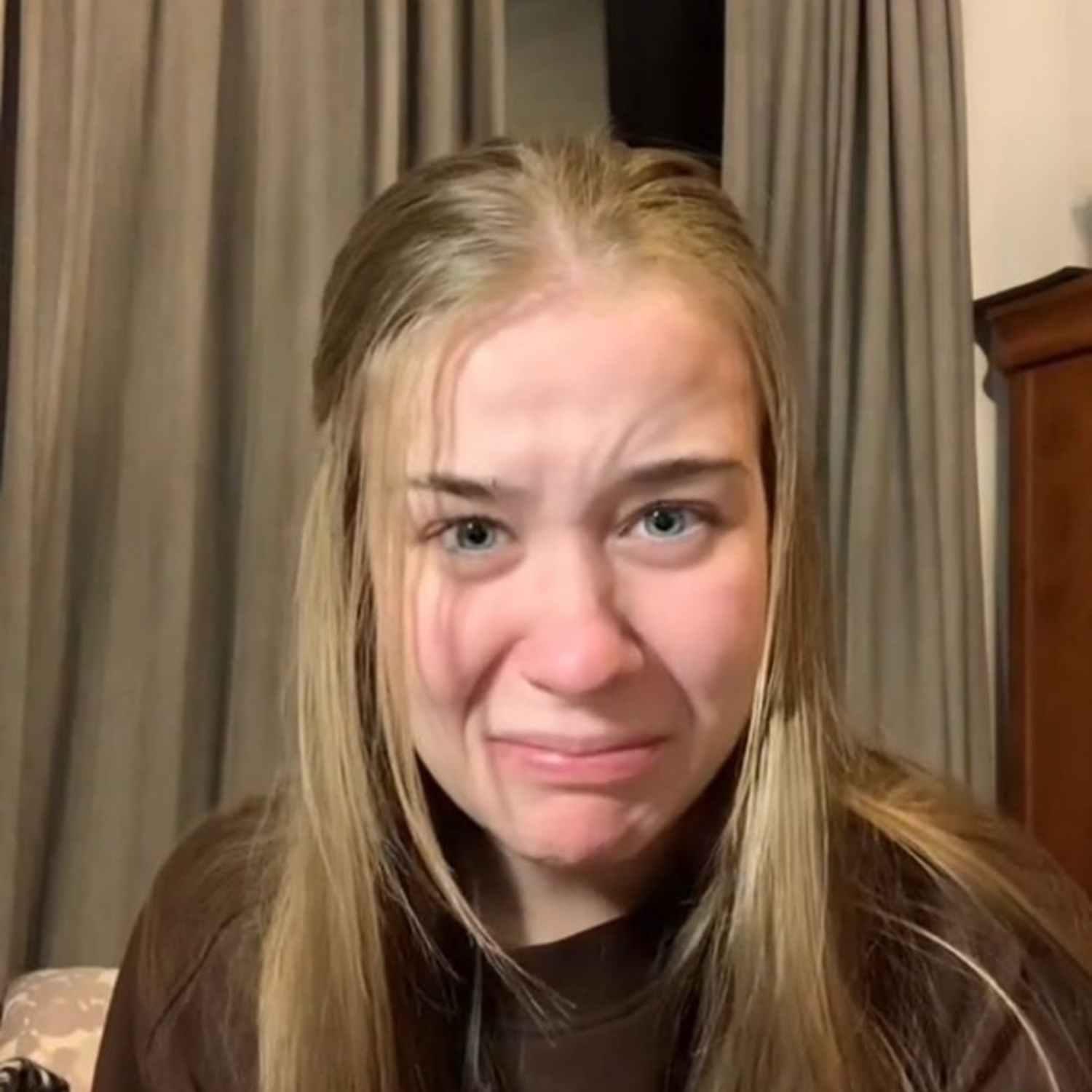 She believed the traditional lifestyle women had, which was primarily concerned with home keeping, has been stripped away by these women's activists. According to her, she was better suited for the traditional lifestyle. Unfortunately, that era is largely bygone, since many women enjoy working and earning today.
Having a Job Can Be Extremely Strenuous
Sometimes, it is a bit difficult and strenuous to work. Many people juggle two jobs, and these responsibilities can leave many extremely exhausted and burnt out.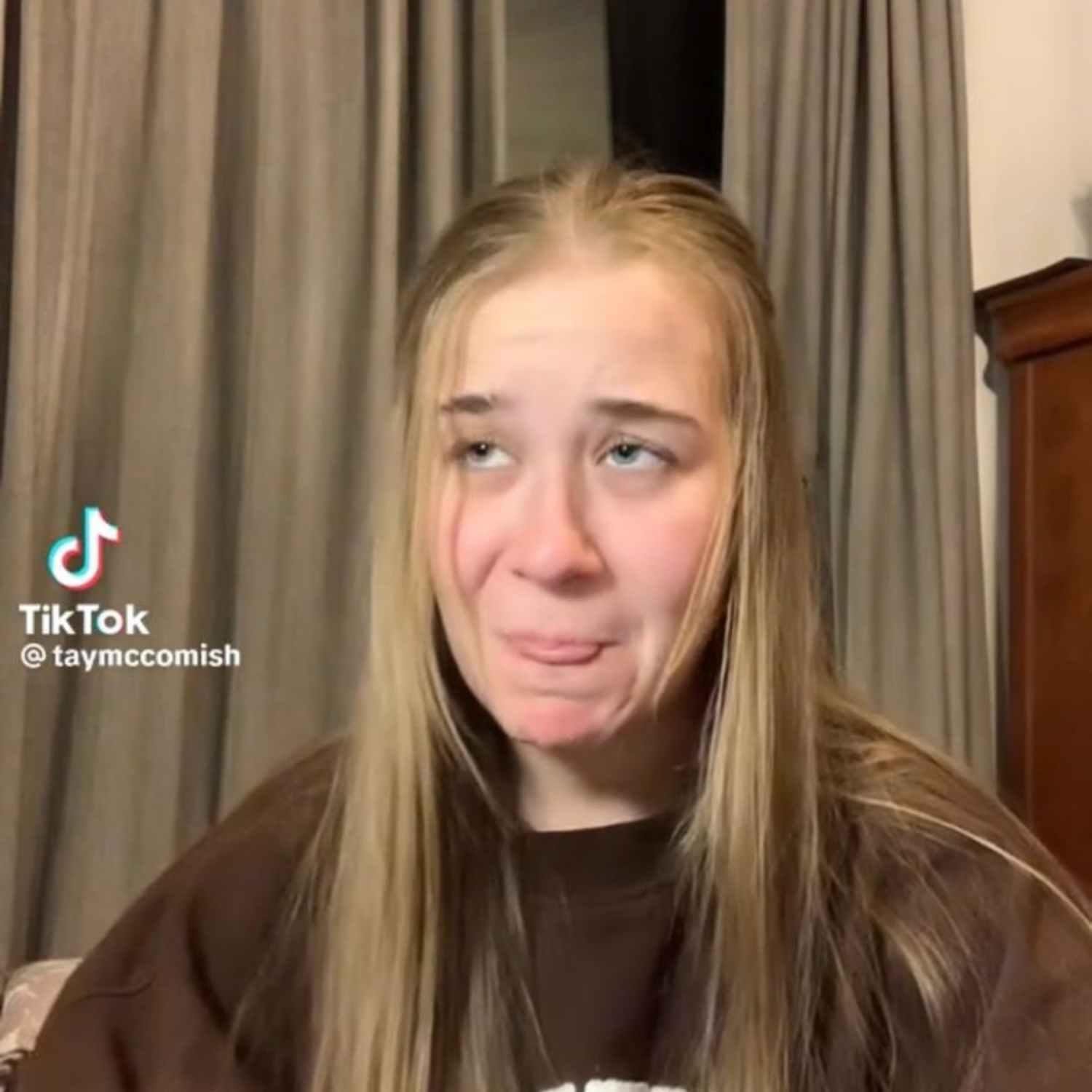 In the viral TikTok video that has garnered over six million views, Tay seemed exhausted from work as she tearfully asked why women's right to work was fought for.
Some Women Don't Have It Easy
This is something a lot of women can relate to. Some of this is owed to the fact that women, especially if they are parents, are also expected to manage their homes and kids while still carrying the responsibility of pursuing a career.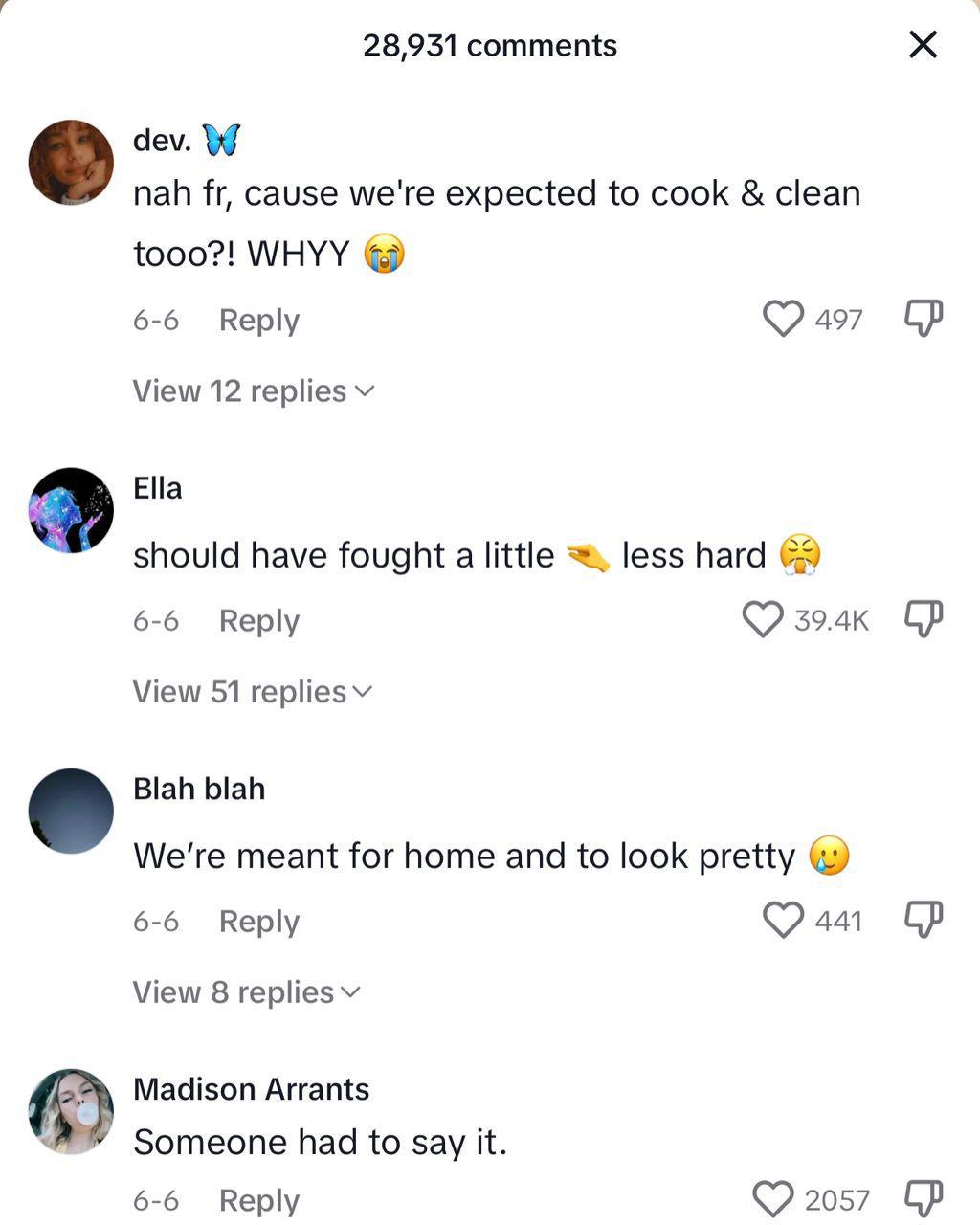 Some of them juggle multiple roles without a lot of support. According to one comment on the post, women's rights activists should have fought a little less hard.
Women's Right Have Come a Long Way
Comments have flooded the TikTok post, with many female users relating to Tay's frustration.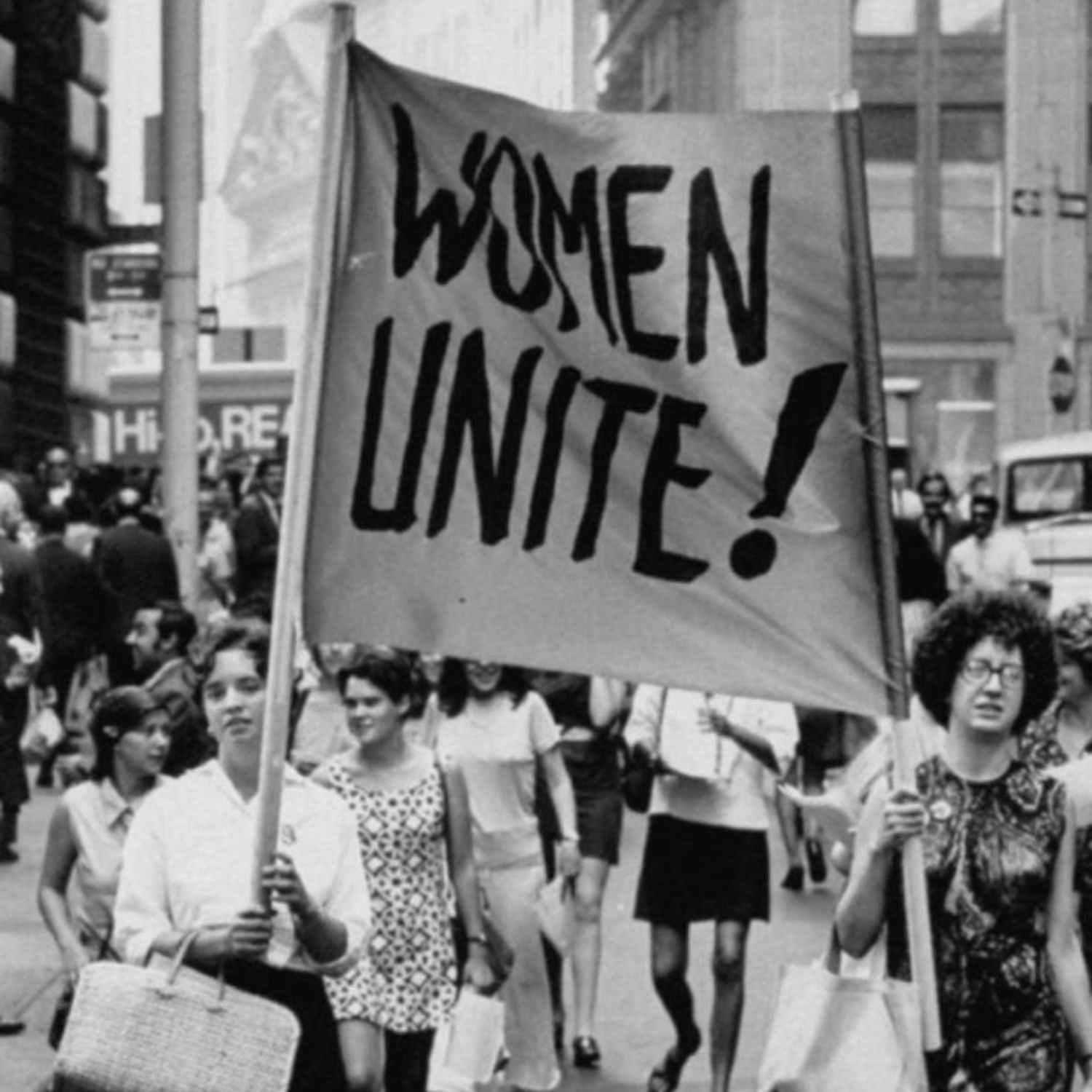 While work can be very strenuous, it is important to acknowledge the progress that has empowered women around the world today and all that resulted from the fight for women's rights and financial independence. Hopefully, Tay can understand that.
Not Everyone Agrees
While a majority of commenters on Tay's video agree with her frustrations, there are others who challenged her statement. One user said, "Even if we didn't work, I don't think we'd find a guide to support us financially." A user responded by saying "having all ur financial freedom even survival depending on another individual could easily lead to disaster."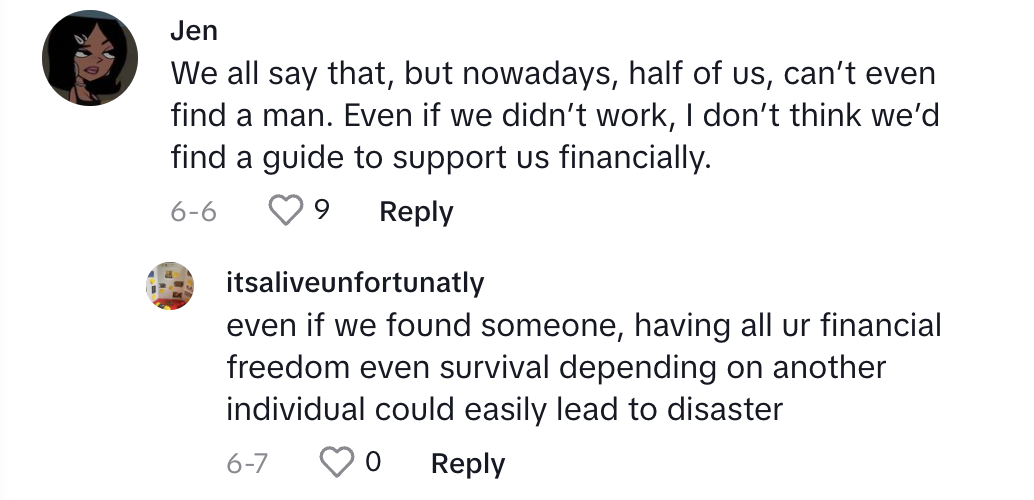 Both commenters have valid points. While many women don't want to work a regular job, it's not a burden to have financial freedom – it's better than relying on a partner or another person.
Another TikToker Posted A Similar Video
The TikToker (who goes by the name of @sophie_ogle) posted a video where she says she's in "disbelief that women fought for their right to work."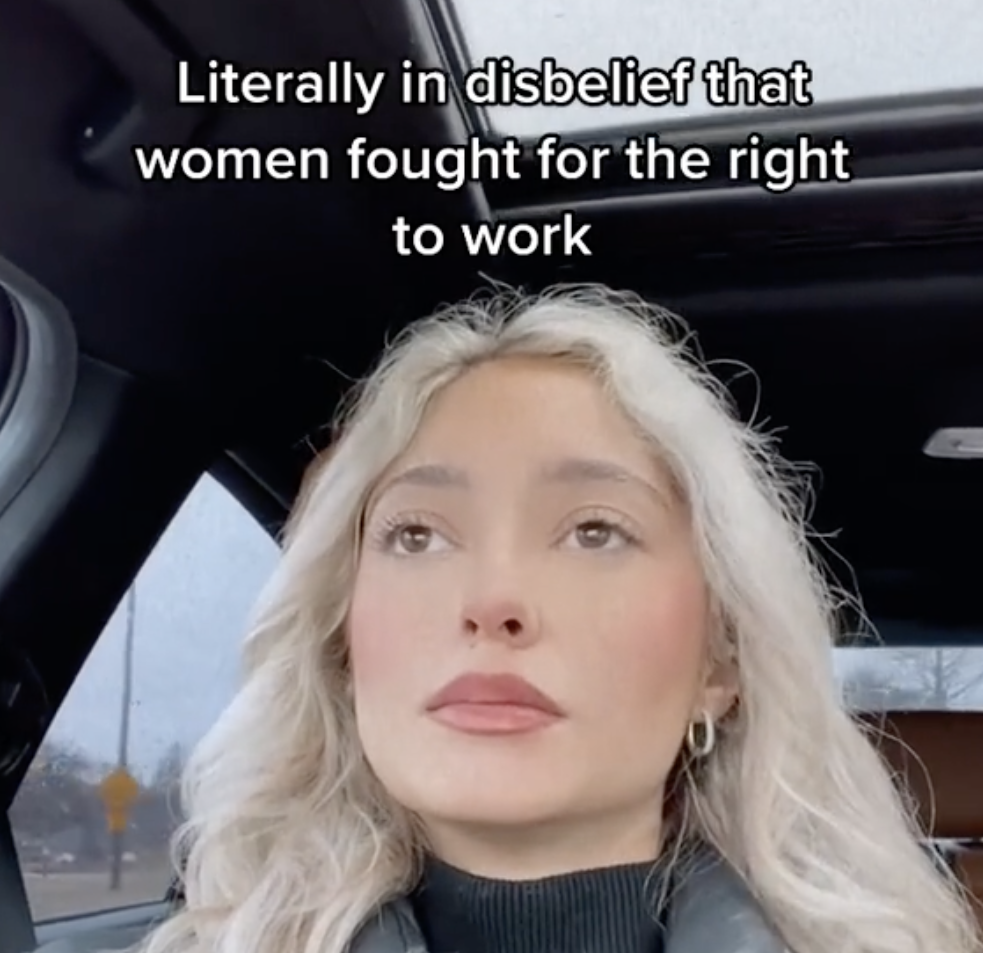 "Baby pass me the windex & put me in the kitchen where I belong," she wrote. In the video's caption, she said that she is "still in denial to this day."
The Responses Flooded In
Naturally, people took to the comments section to either praise her views (or challenge them). One user wrote, "Yeah cause now we gotta work and clean???" to which Sophie responded: "I SWEAR."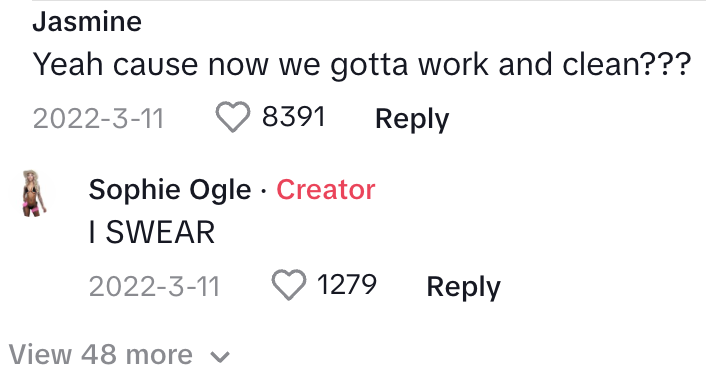 Another person agreed writing, "been saying this for years." Others, however, didn't necessarily share the same opinion.
Not All Comments Were In Favor
Many women who stayed at home were in abusive relationships – and work was one way out of that. It's empowering that women now have the choice and aren't confined to being housewives.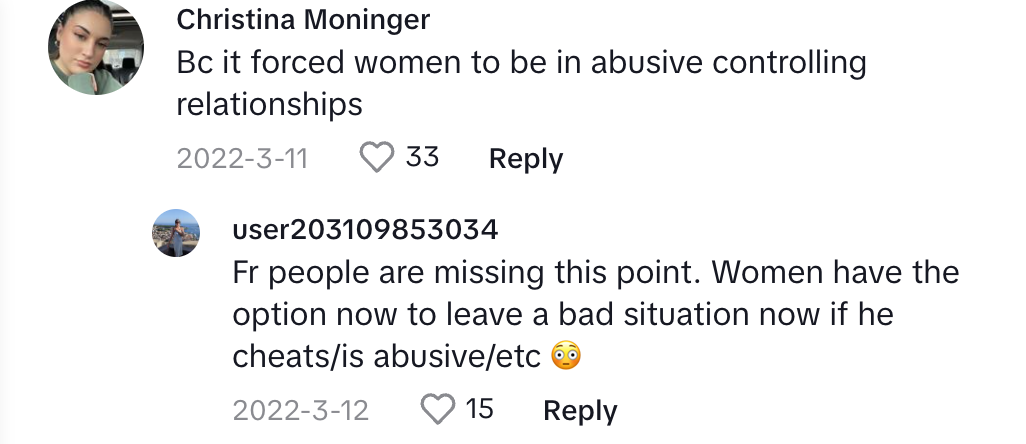 Some commenters were happy about being stay-at-home moms, while others say cleaning a household and raising children isn't an easy task. After all, it's also work. Another user wrote, "This app is just a continuous reminder that people don't have a sense of humor."
At Least The Choice Exists
While both TikTok videos sparked lots of debate, females have come a long way in their rights to freedom regardless of if they choose to work or stay at home.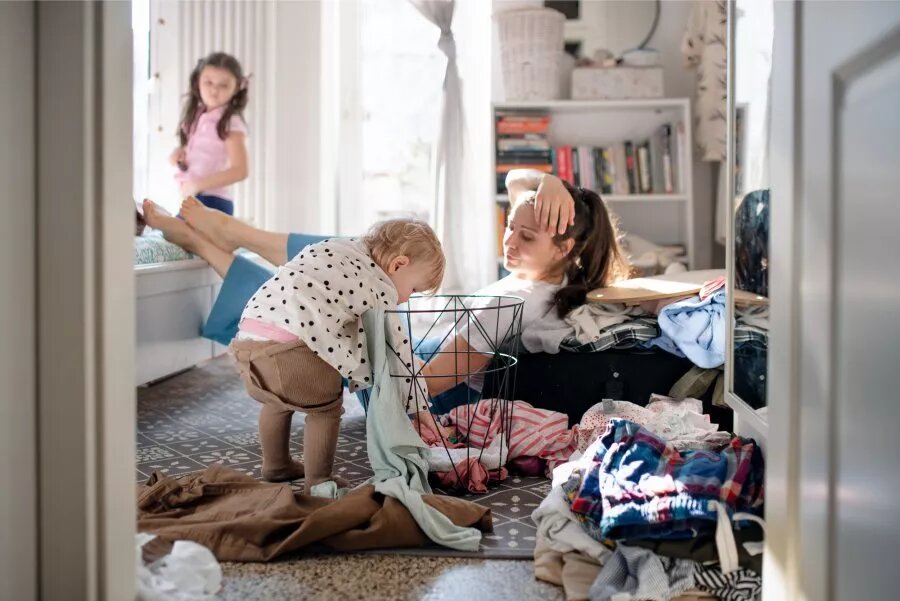 People must recognize that women can decide what they want to do with their lives, which is better than not having any options.