New Hampshire Woman Finds Painting Worth $200,000 at Thrift Store
Everyone knows that you can find some really special pieces at a thrift store, but no one expects those finds to be worth hundreds of thousands of dollars.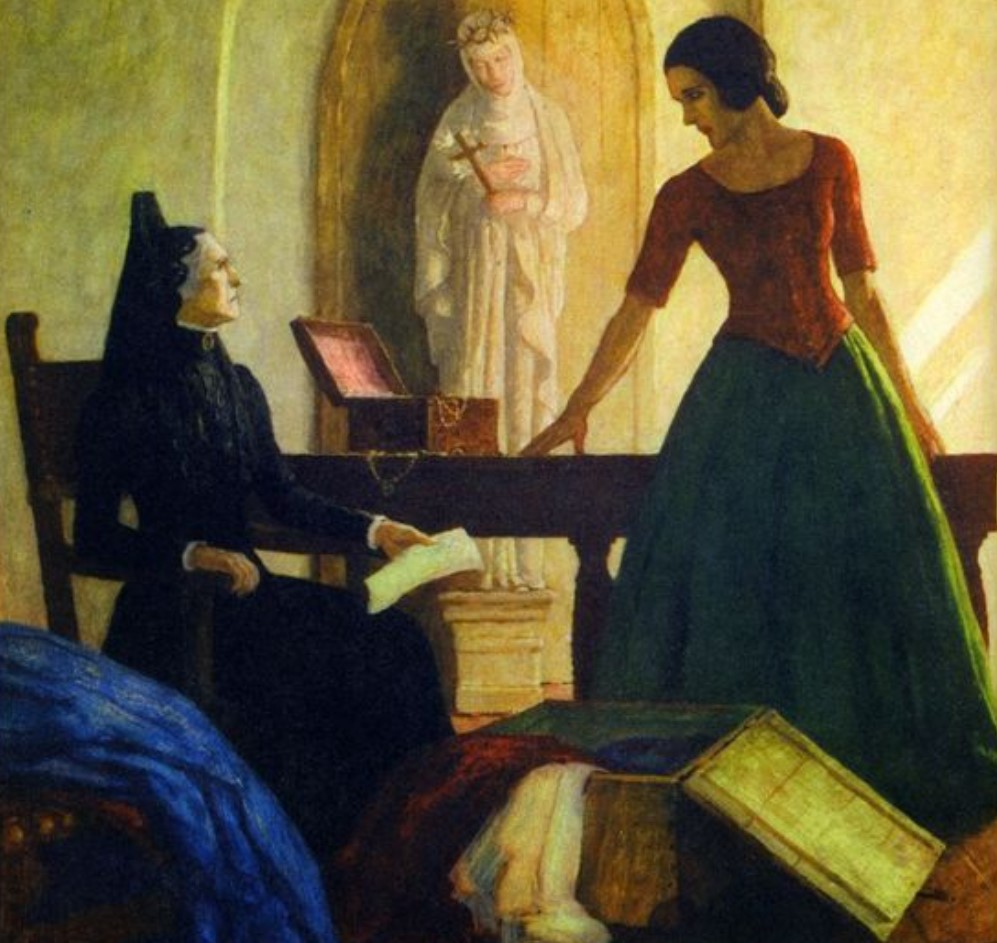 But that's exactly what happened to a woman in Manchester, New Hampshire, who discovered an old painting that she later found out was extremely rare and worth somewhere between $150,000 and $250,000.
The Story Behind This Wonderful Find
The woman, who has chosen to remain anonymous, said that she was shopping at a Savers store in New Hampshire when she came across the painting in a large pile of not-so-impressive prints and antique frames.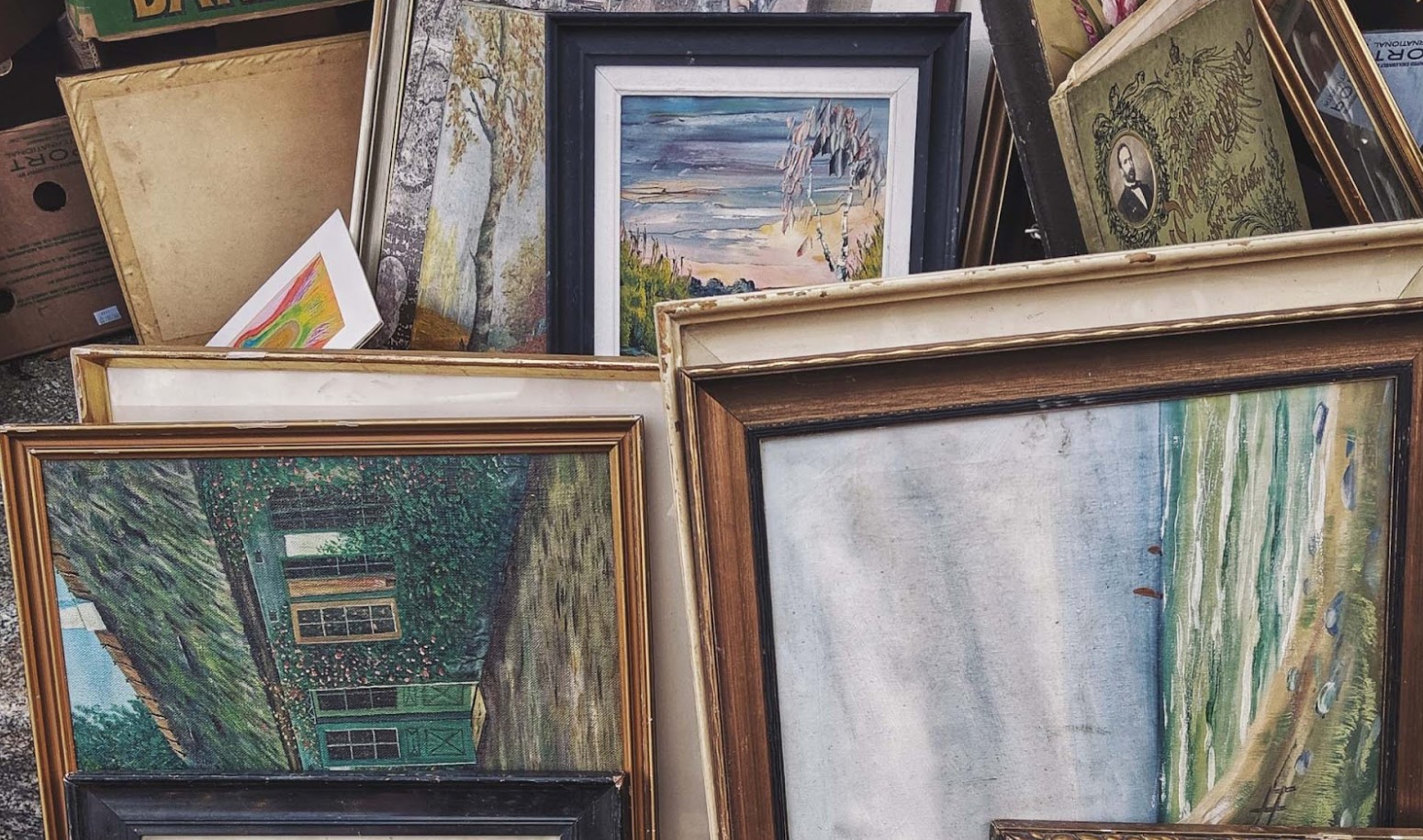 She liked the look of the painting, though it was "quite heavy and dusty." and though she thought it might be a "real painting," she didn't think much of it and decided to hang it in her bedroom. After a few years, she retired the painting to her closet, leaving it to gather more dust.
Posting to a Facebook Group Changes Everything
The owner of the painting still didn't know what she had until she uploaded a photo onto a Facebook group entitled "Things Found In Walls – And Other Hidden Findings," a group meant to simply share fun or interesting items people have found around their homes.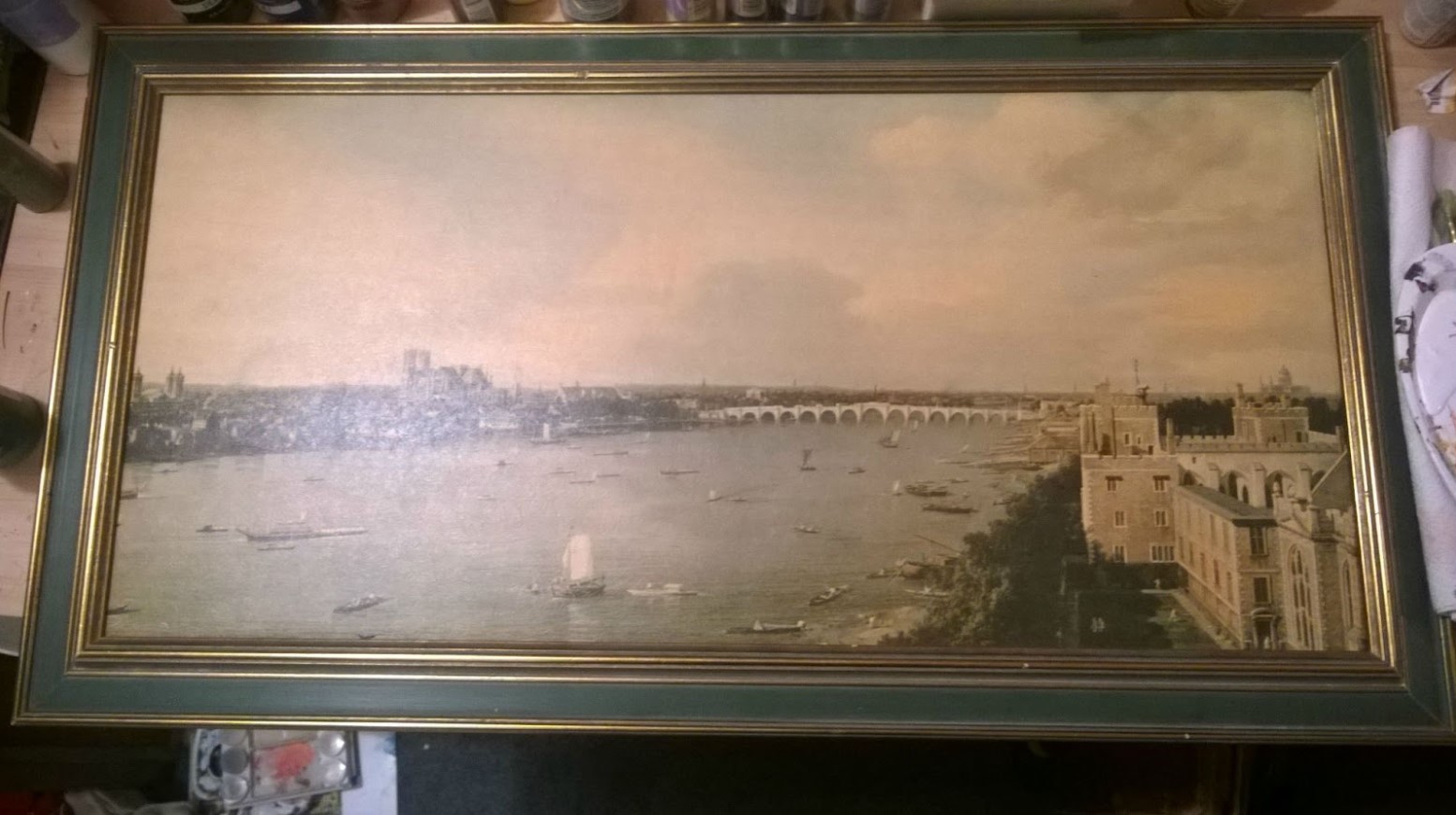 Someone noted that it truly looked like it could be a famous painting, so the owner decided to contact the Brandywine Museum of Art in Chadds Ford, Pennsylvania.
Respected Art Appraiser in Shock Over the Find
The owner also contacted Lauren Lewis, an independent conservator and curator based in Maine, who immediately knew that this painting was something special. In fact, she even knew that the artist was N.C. Wyeth, because she had previously curated shows of his work.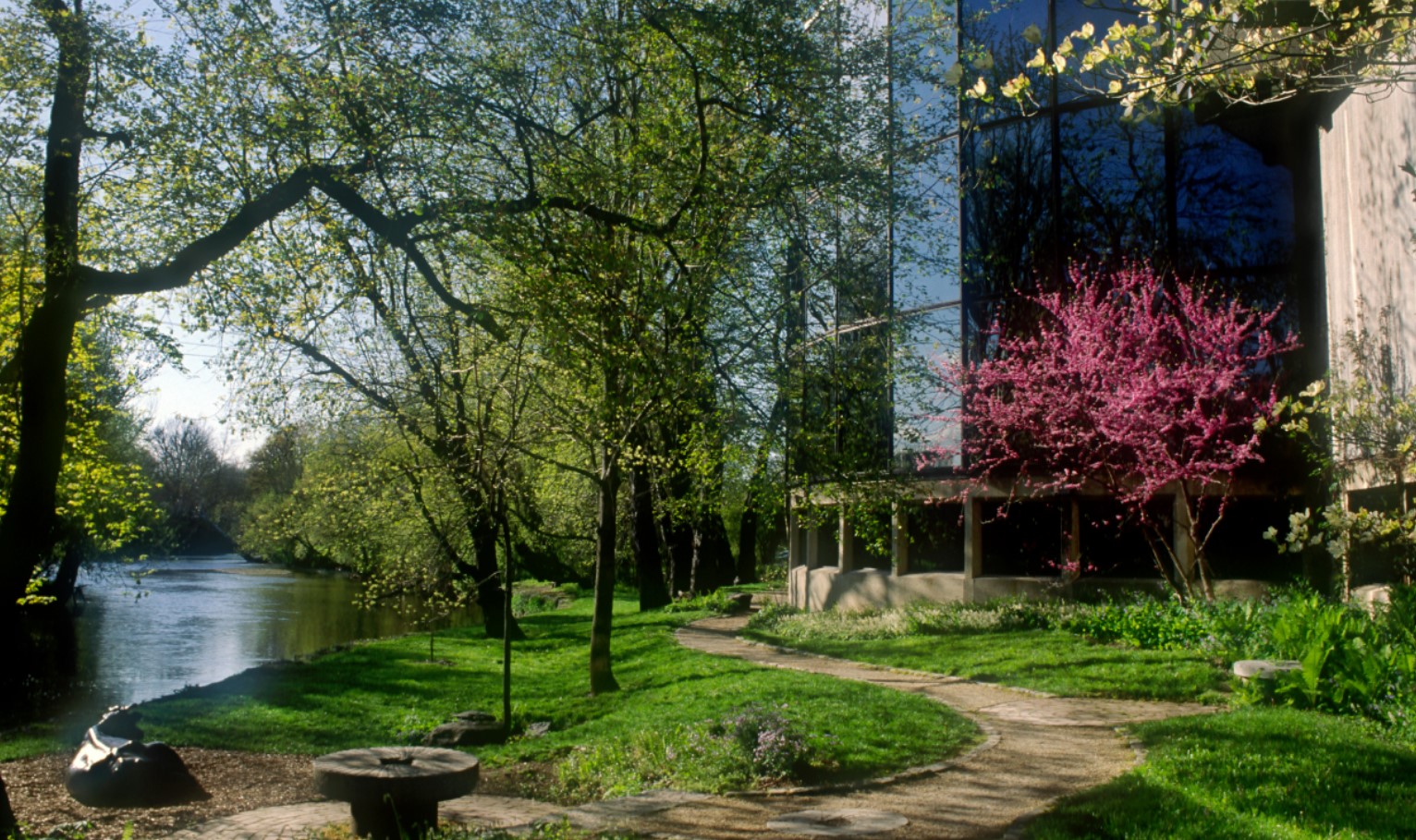 Lewis told the painter's owner, "I am used to seeing copies of Wyeth paintings or paintings by other artists who might have been influenced by him being attributed to the artist falsely, but there were things about these photos that caught my eye."
So, Who Was N.C. Wyeth?
Newell Convers, better known as N.C. Wyeth, lived from 1882-1945; during his lifetime, Wyeth was considered a successful artist and illustrator.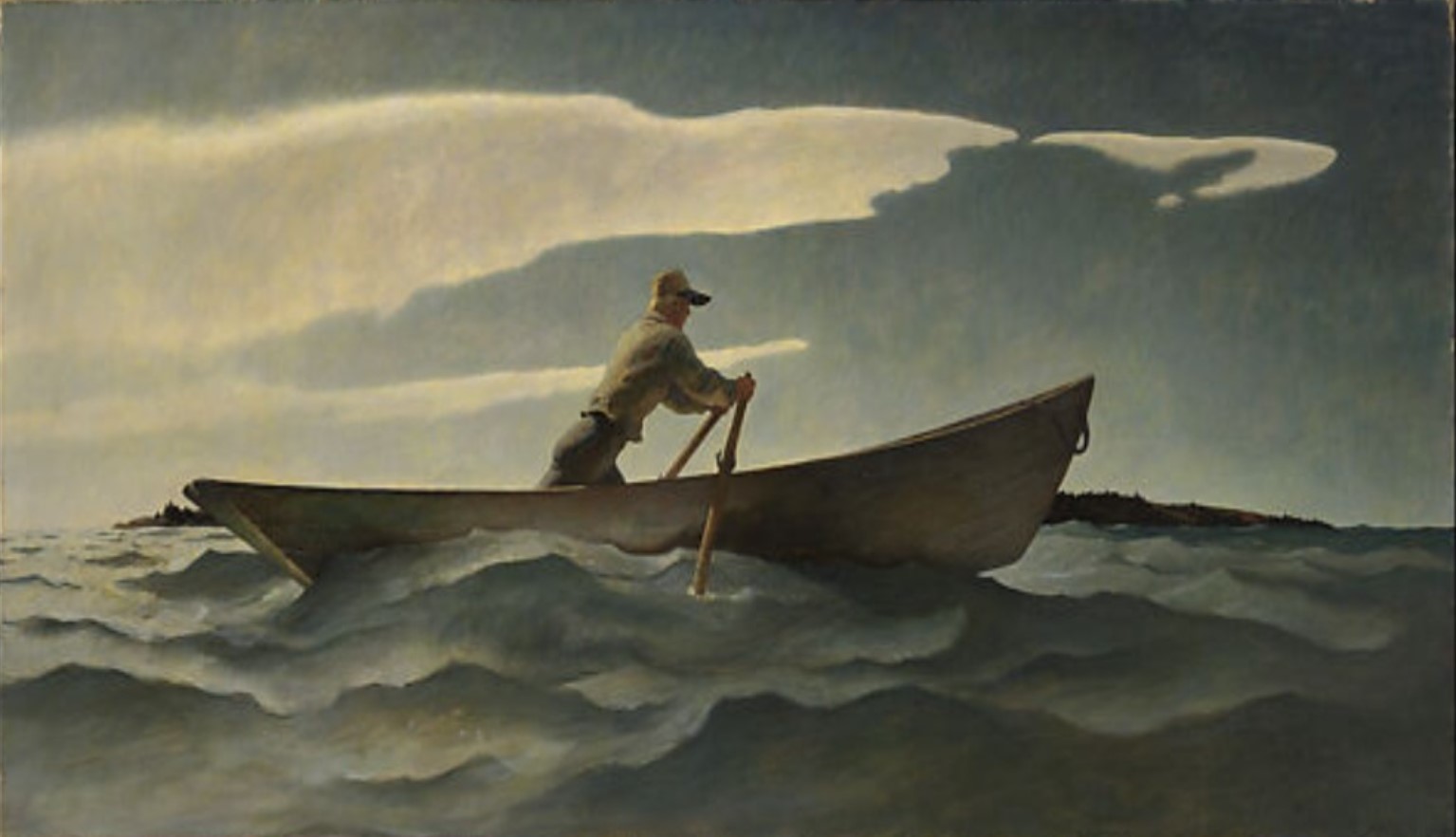 His painted illustrations were often used for periodicals and books, as he was known to wonderfully capture the emotion of a character, as well as portray vibrant scenes through expert use of colors and shadows.
N.C.'s Son Andrew Is Even More Well-Known
While N.C. was a beloved artist during the first half of the 20th century, his son Andrew became even more well-known for his realist paintings throughout the second half of the century.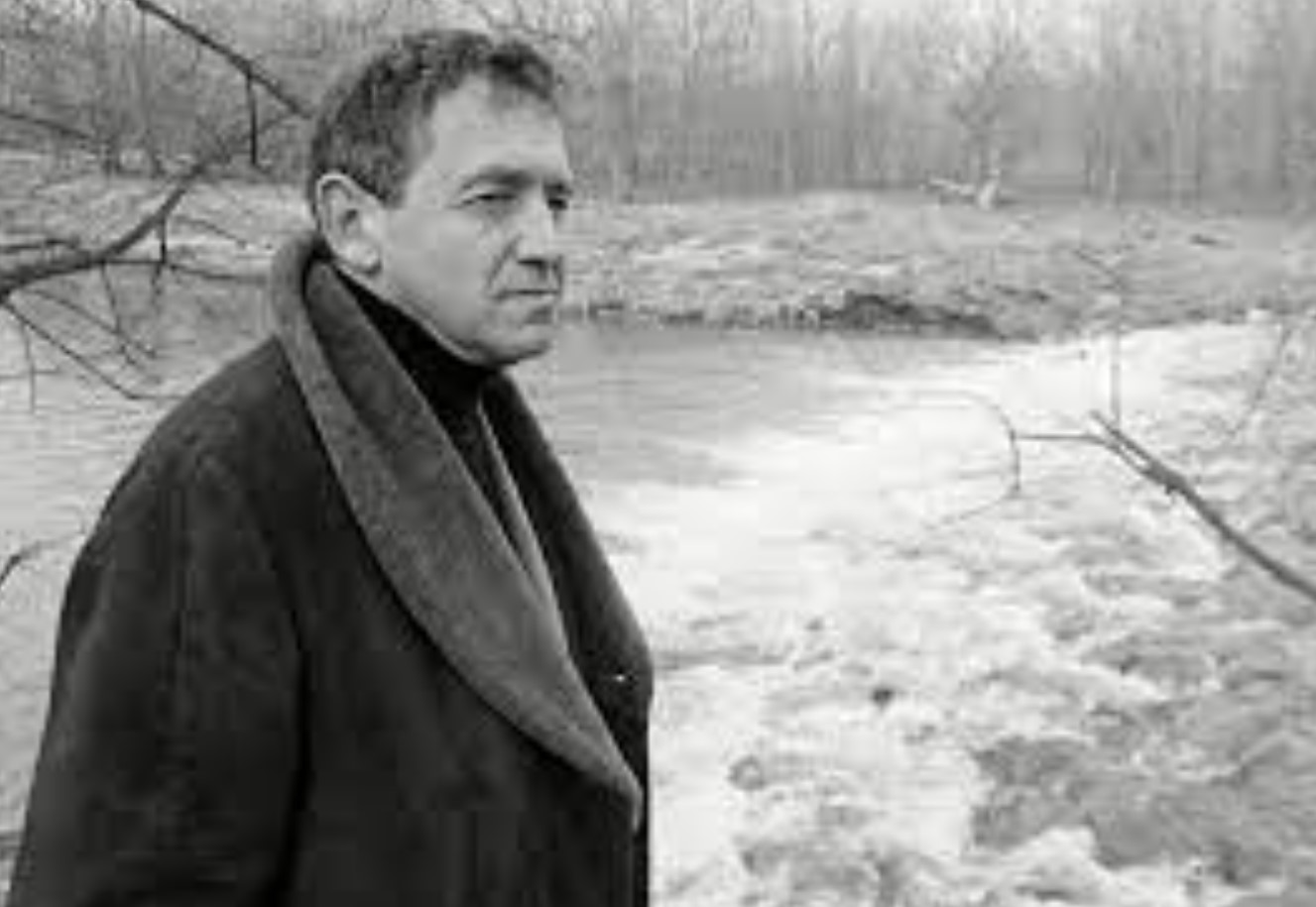 N.C. gave Andrew art lessons when he was only a child, and according to Andrew, his father passed down his passion for art as well as the skill of actually painting. There's no doubt that Andrew's success and style were inspired by his father's previous works.
Wyeth's Painting Used for Frontispiece of a 1939 Book
Both Andrew and his father have created dozens of beautiful pieces of art, but this particular painting is something very special.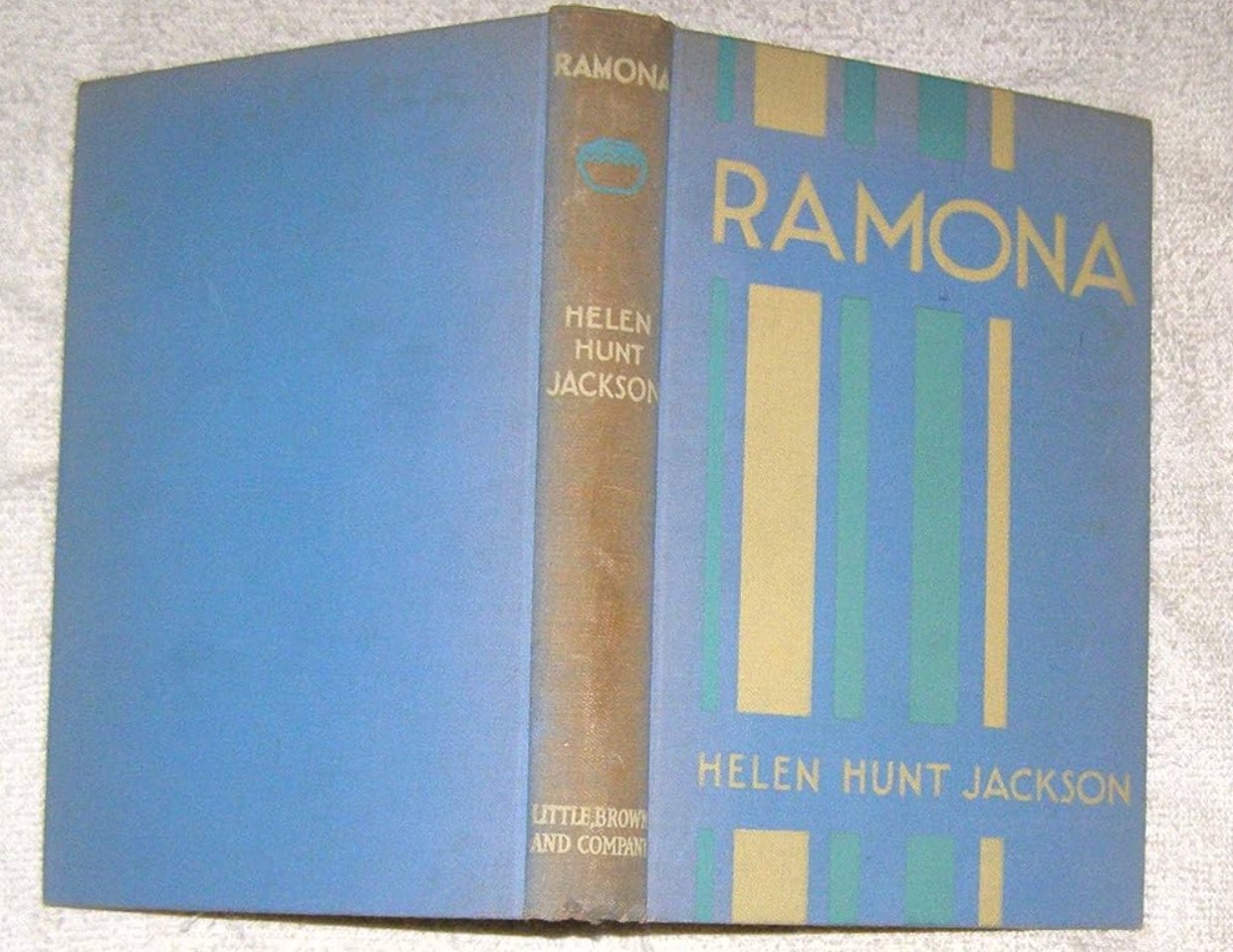 N.C. painted the scene for a book titled Ramona by Helen Hunt Jackson. According to experts, it was the frontispiece, or the illustration facing the title page, for the 1939 edition. While art curators know that Wyeth created several illustrations for the book, only three, including the most recent, have ever been found.
The Mysterious Life of the Old Painting
Lauren Lewis, who was the first to assess the painting, stated that "it was in remarkable condition considering none of us had any idea of its journey over the last 80 years."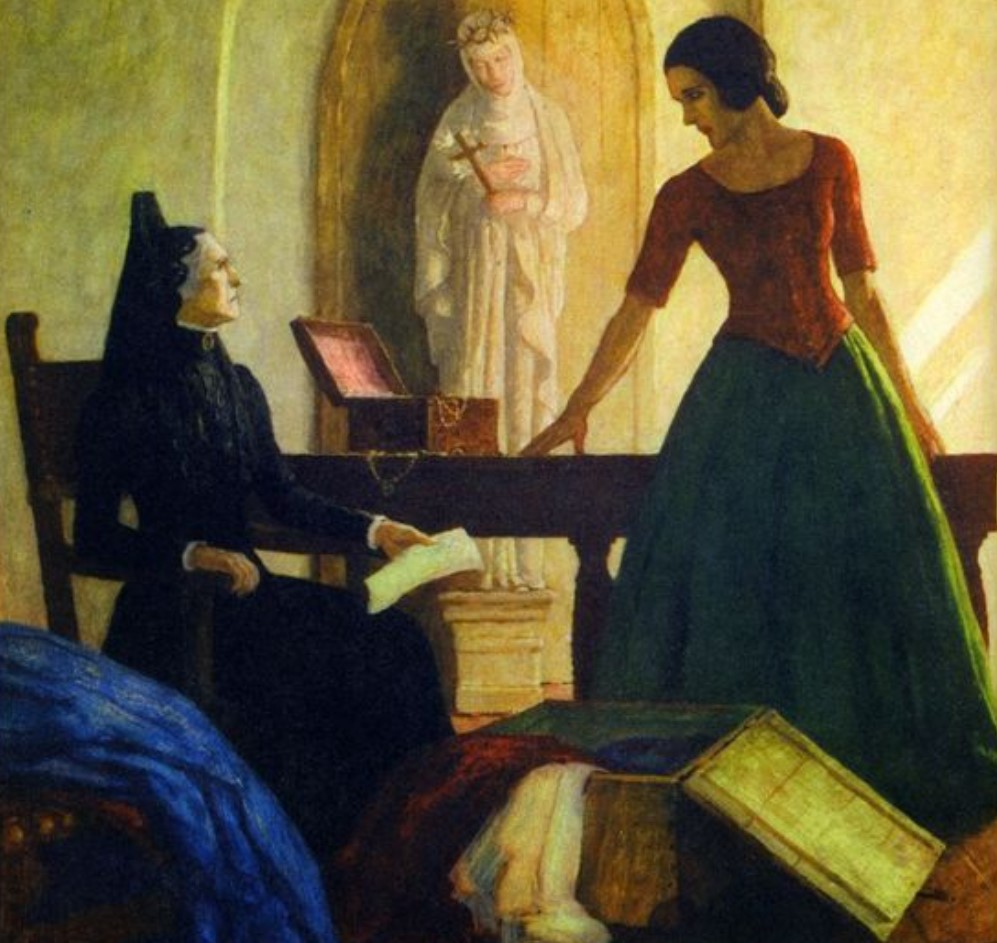 She assessed that there were a few scratches, and the painting should be cleaned by an expert, but overall, the piece was structurally sound. However, while conversators can assess the current condition, they really have no idea where this painting has been for the better part of the last 100 years.
American Art Auction Bonhams Skinner Handling the Sale
Bonhams Skinner is a renowned appraisal and auction company in Massachusetts. And once the owner of the painting realized what she had in her house, she decided to let Bonhams Skinner facilitate the sale.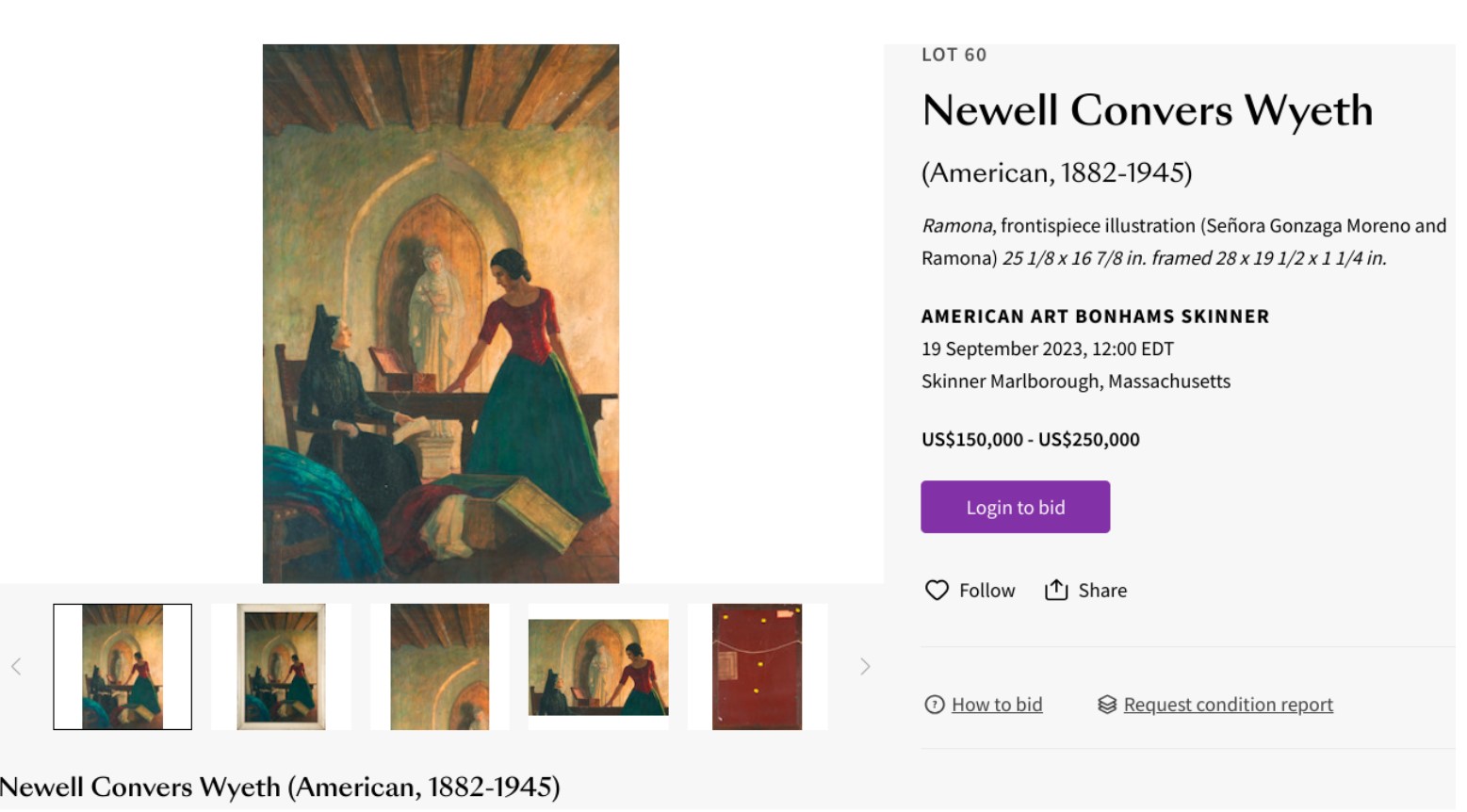 The N.C. Wyeth illustration of Ramona is currently listed for sale on the auction company's website. The list price is set for $150,000 to $250,000, though the owner will have to wait for the bids to come in before finding out just how much she'll make from her incredible find.
Explaining the Importance of This Piece
To explain the incredibly high price point they set, the experts at Bonhams Skinner want the world to understand the importance of this N.C. Wyeth painting.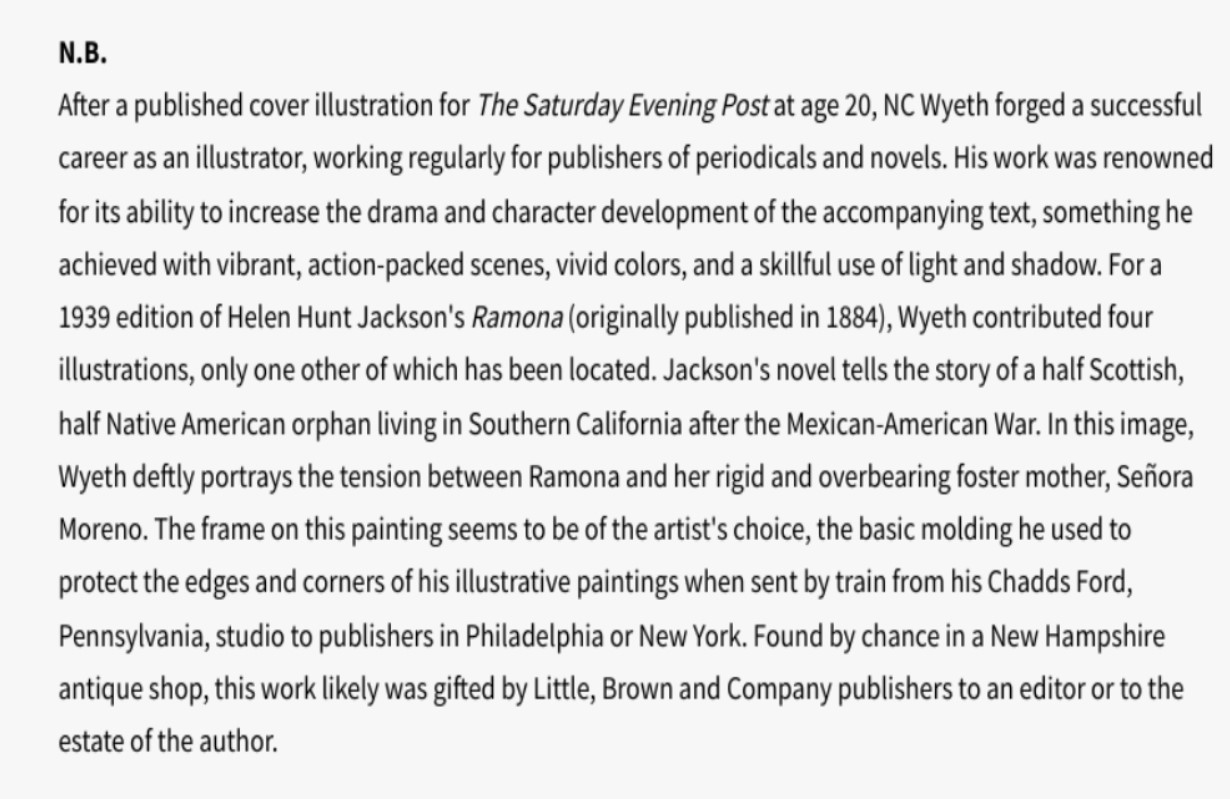 They believe that the frame is actually one that N.C. Wyeth picked out himself, and because it is one of Wyeth's widely unseen illustrations for Jackson's famous book, it is an important part of historical artwork.
"Upcycling" Thrift Store Art Has Become Extremely Popular
There is an incredible amount of art sitting unknown in piles of paintings in thrift stores and attics, but sadly, some of these pieces are being ruined by the popular trend of "upcycling" old artwork.
Through "upcycling," people are buying old paintings and essentially painting over them to create new art. While some of these pieces are interesting and noteworthy, it means that historic pieces could be unknowingly destroyed.
Thrifters Should Be on the Lookout for Rare Paintings
This woman's story of paying $4 for a painting that is apparently worth hundreds of thousands has made many thrifters wonder if this miracle could happen to them.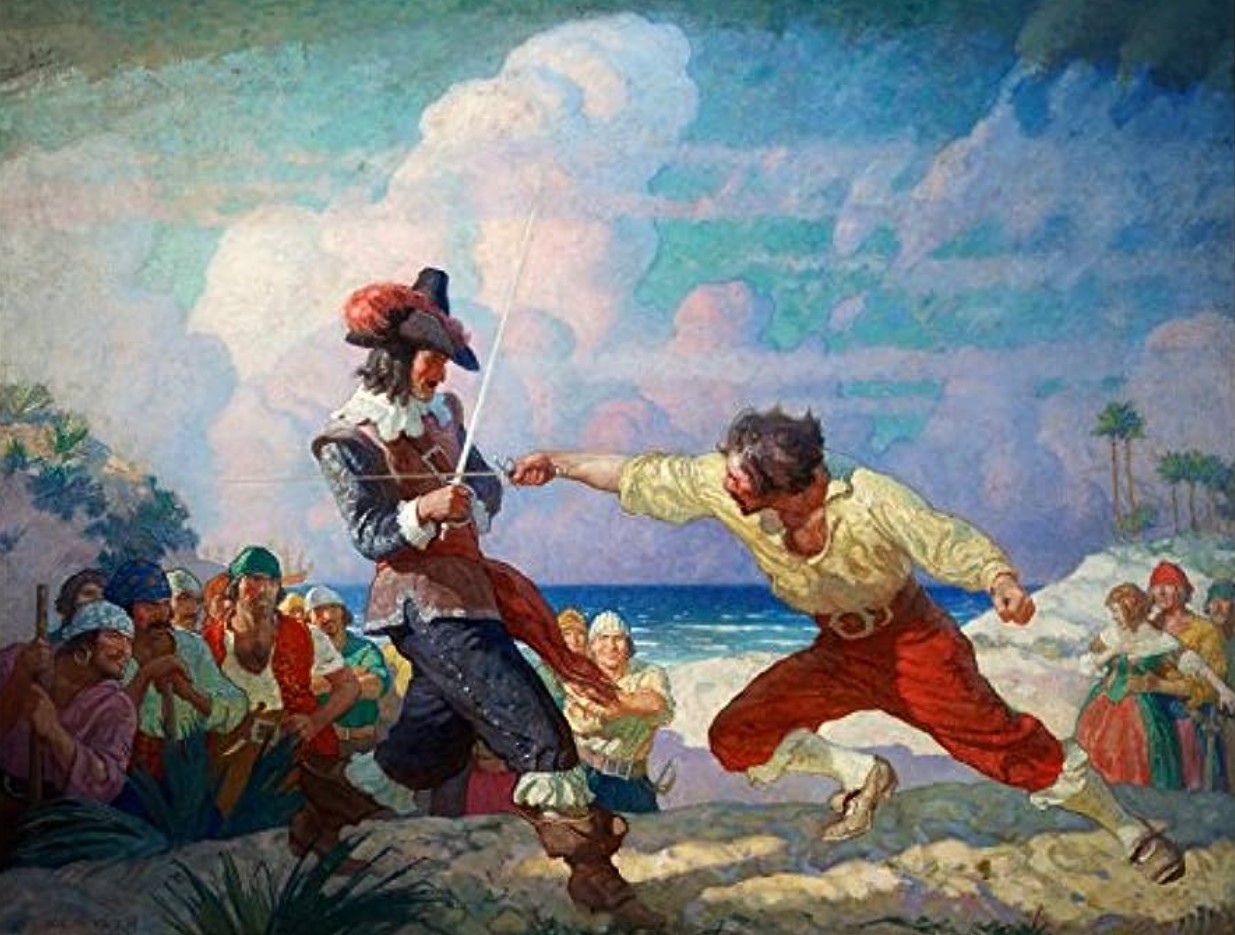 So next time you find an interesting painting in good condition at a second hand store, yard sale, or in your grandma's attic, you may want to have a curator look at it before repurposing the frame or worse, trying to "upcycle" a historic and valuable piece of art.