35+ Workplaces That Will Keep You Entertained All Day Long
Have you ever wondered what really goes on in the office? The iconic show "The Office" provides a hilarious view into the everyday life of an office, highlighting the pranks that coworkers pull on each other. From mundane tasks to crazy bosses and annoying colleagues, these photos provide a humorous snapshot of our professional lives.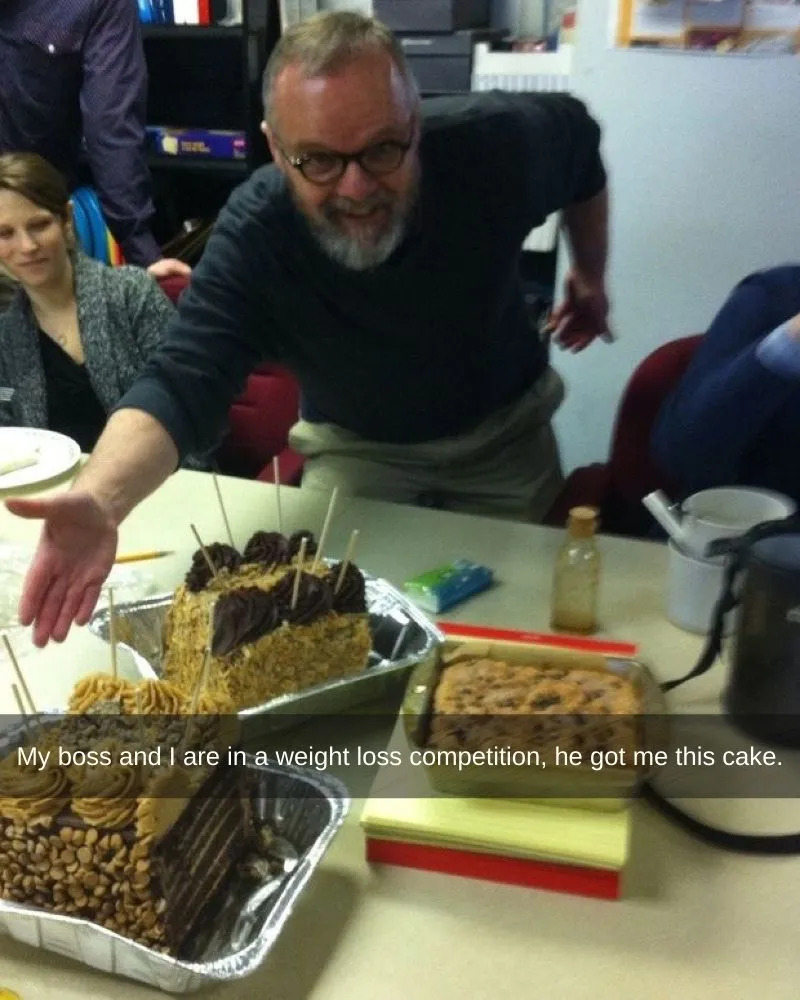 Prepare to laugh as we take you through some of the funniest moments from behind office doors!
Turning Pranks into Reality! 
We all know how much fun it is to play pranks on our colleagues in the office. But what do you think would happen when they decide to give as good as they got? We're sure nothing like this has ever happened before! The picture below will show you what happens when coworkers really retaliate.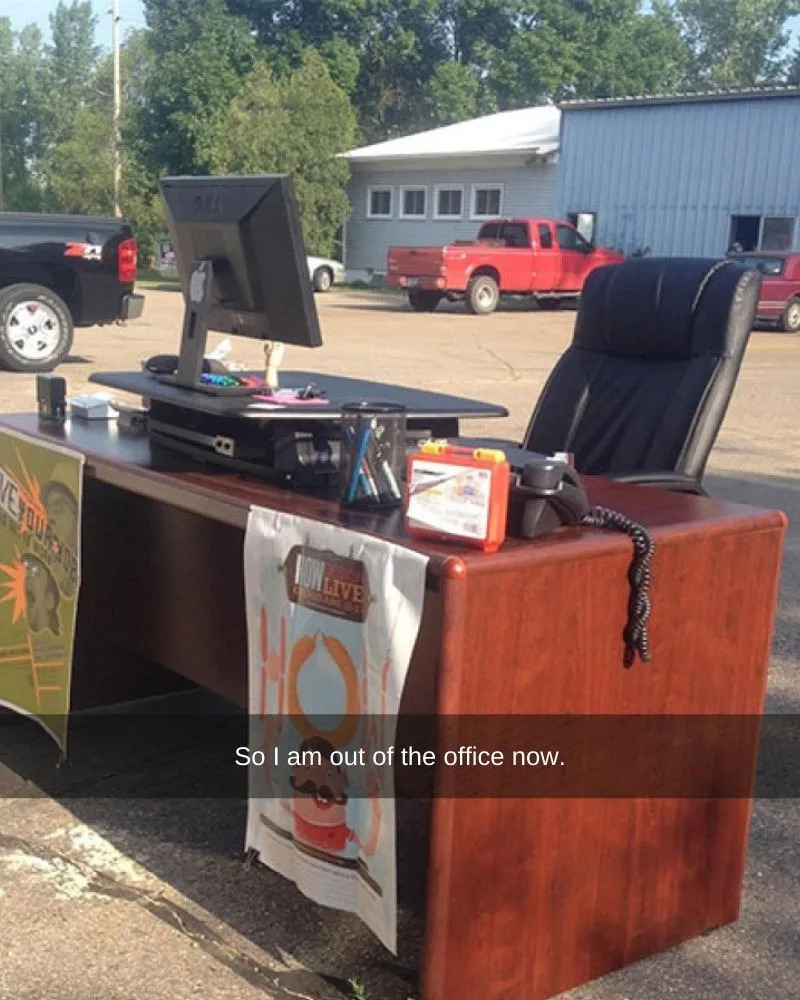 The prankster slathered lotion on the door handles, but instead of simply putting lotion on the prankster's desk or seat, they took it a step further and moved the prankster's entire desk outside! Talk about a whole new level of getting even!
Is Your Colleague Jealous of Your Keurig 101? 
Do you have a colleague who's always making quips about your Keurig 101? If so, that's a sure sign they're just a little bit jealous! Just think of the sheer genius needed to come up with this idea of putting a sumo wrestler on top of your machine so it looks like the coffee is being dispensed from, well, you know where!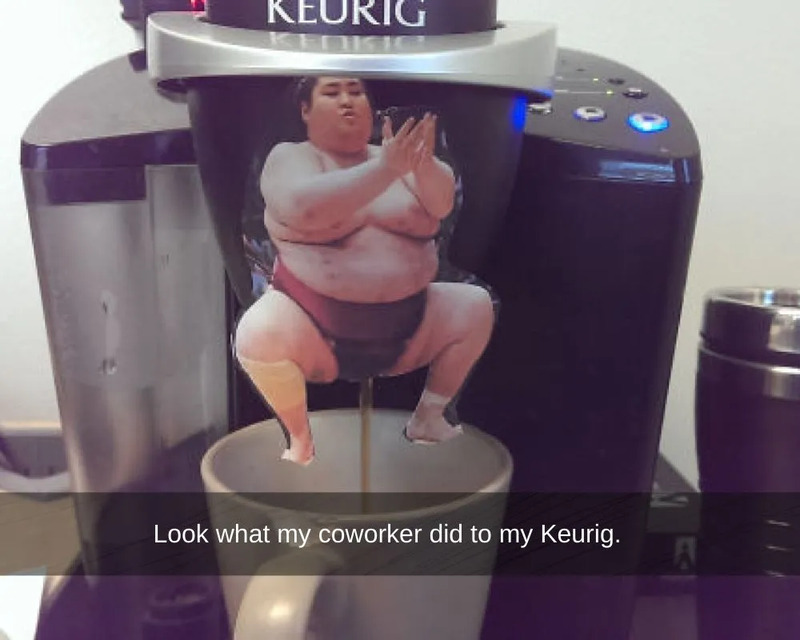 Instead of seething over your colleague's envious prank, why not get your own back – put foil all over their desk or stick googly eyes on their baby pictures! You'll really have the last laugh.
Toy Car Gets Ticketed
It seems someone at the office had a sense of humor when they made this effort. Picture this – you come back to find the toy car that you left in the meeting room for decoration, now ticketed with a 'parking violation'.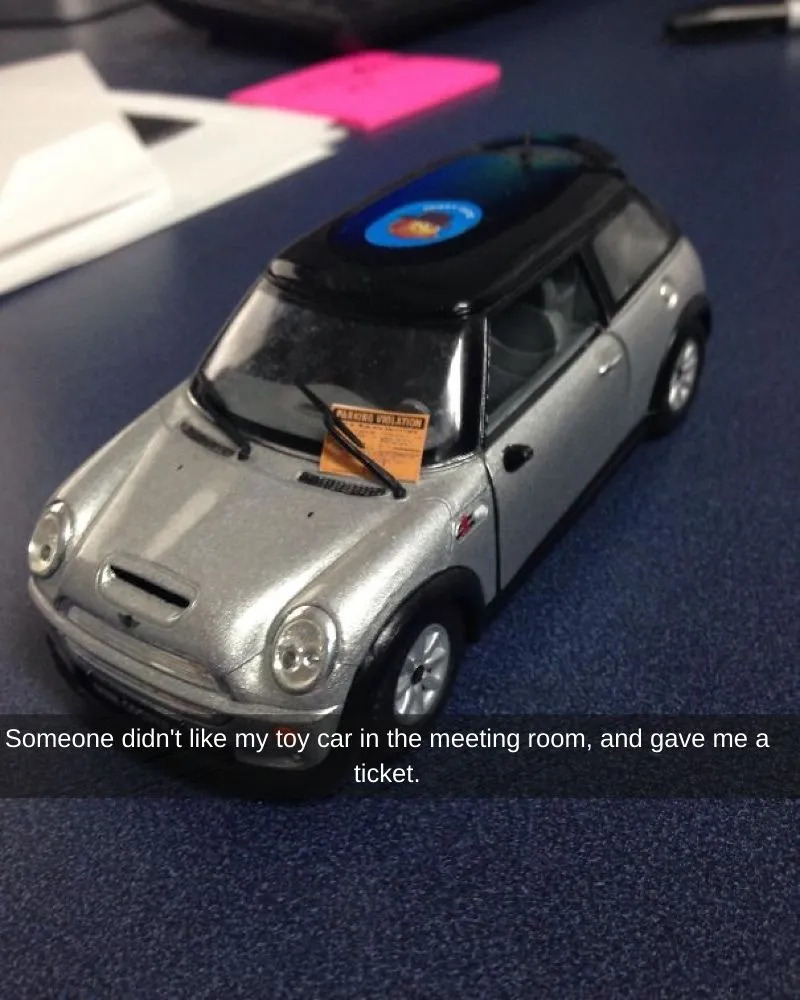 Whoever went to all the trouble to print such a tiny ticket must have been pretty committed to the joke! It just goes to show that no matter how small, parking rules still stand – even if it's just for play!
Your Cup of Coffee Just Got a Whole Lot Funnier 
Are you looking to make coffee time more exciting? Look no further than the amazing voice-command coffee machines. These innovative gadgets make your cup of coffee just the way you like it. All you have to do is give it a verbal command and boom! Your personalized coffee is ready in no time.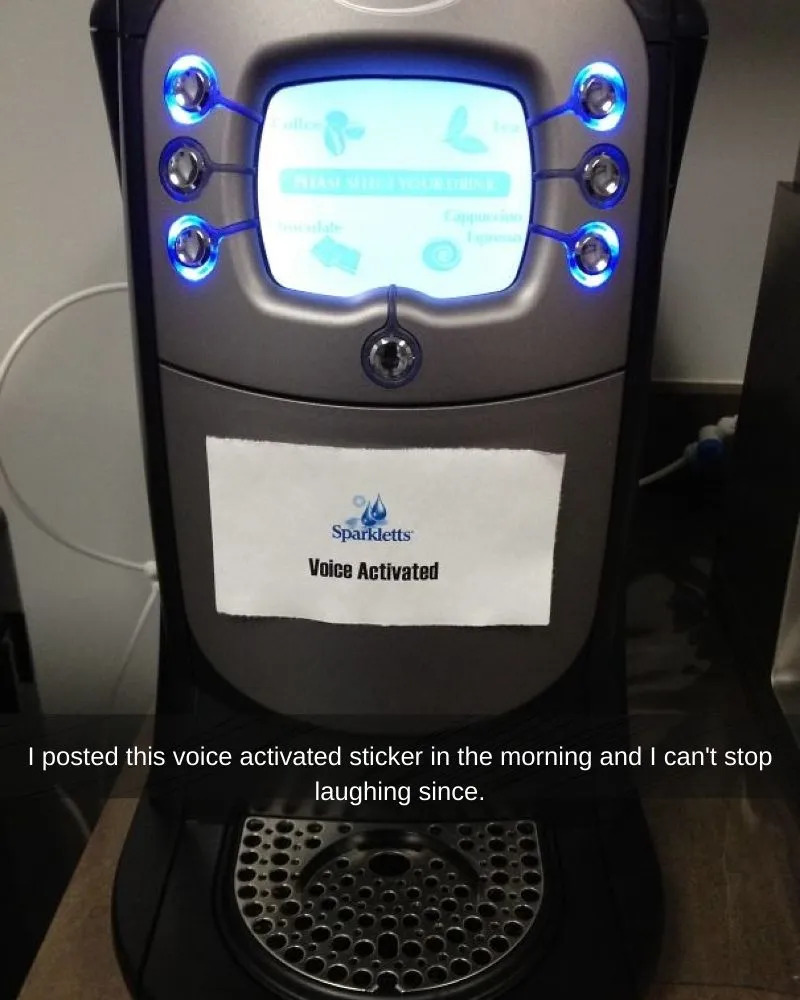 But here's the kicker – what if someone plays a prank on the whole office by making them think there is actually a voice-command feature, when in reality there isn't? Picture this, coworkers walking up to the machine expecting their orders filled, but instead getting nothing, except laughter!
Lunch Thief-Proofing: One Office Worker's Strange Solution! 
It's a common lament heard around office water-coolers – your lunch is missing again! According to a 2017 AmEx survey, 1 in 5 of your colleagues steal someone else's lunch. That's right, 18% of Americans admitted to swiping their coworkers' midday meals.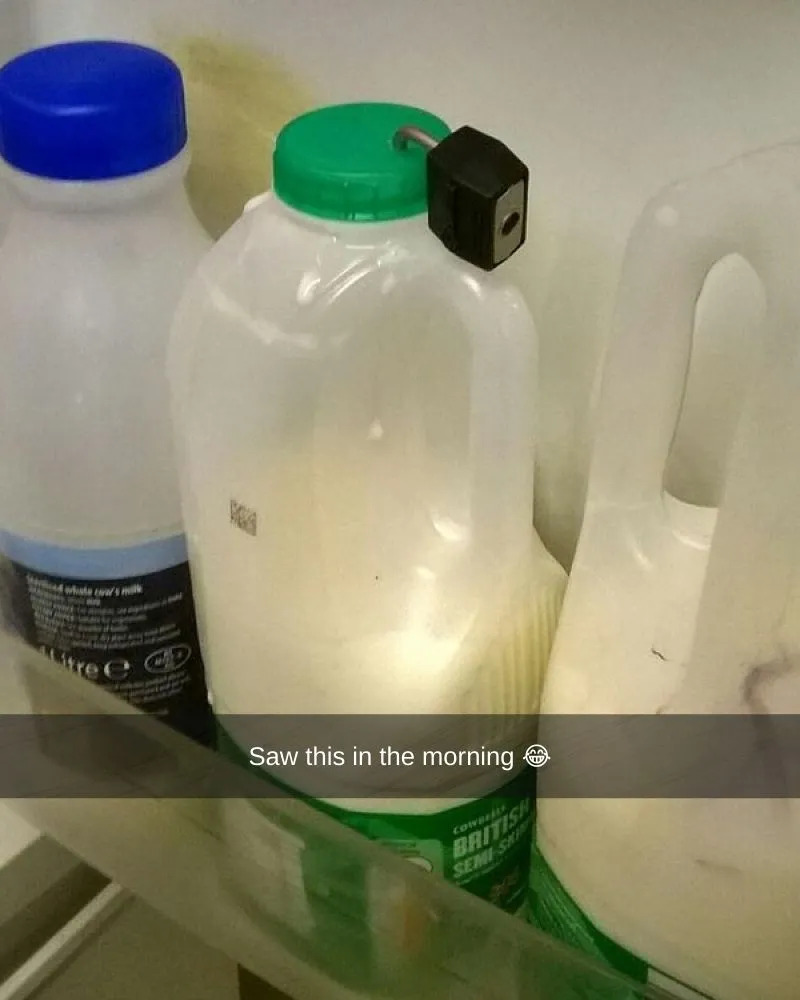 So what happens when you've tried everything to keep lunch bandits away? One resourceful office worker decided the only way to truly protect her food was to take drastic measures – she resorted to keeping it under lock and key!
He Left for 10 Minutes, and Chaos Ensued!
Have you ever gone away from your desk, even if it's just for a few minutes, and come back to find that all hell has broken loose? The phone barely rang all day, and in your brief absence you've missed a bunch of calls and your boss is looking for you?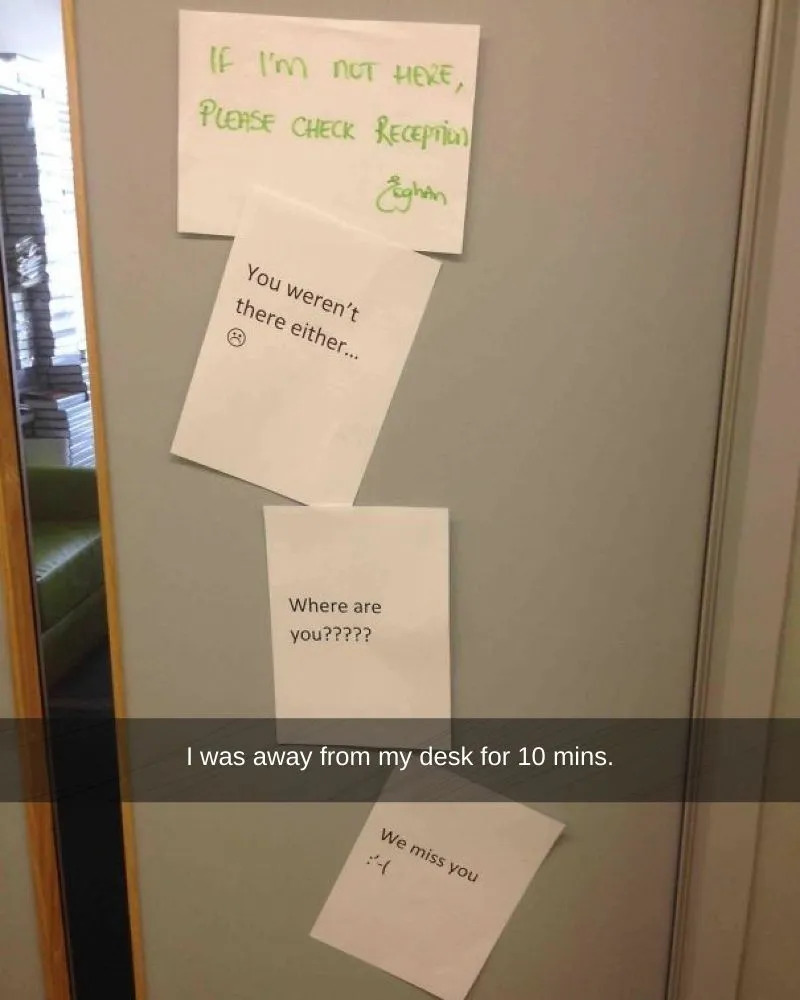 If so, then this scene must look familiar. Fortunately for this employee, it was all of his coworkers doing. While it may not seem ideal, having such hilarious friends at work does keep things lively. Don't you agree?
Underwear Return Refused: You Know Why! 
Have you ever been baffled by a store displaying their 'no underwear returns' policy? Do people actually try to return their previously worn briefs? Perhaps if a store feels compelled to put up a sign like that!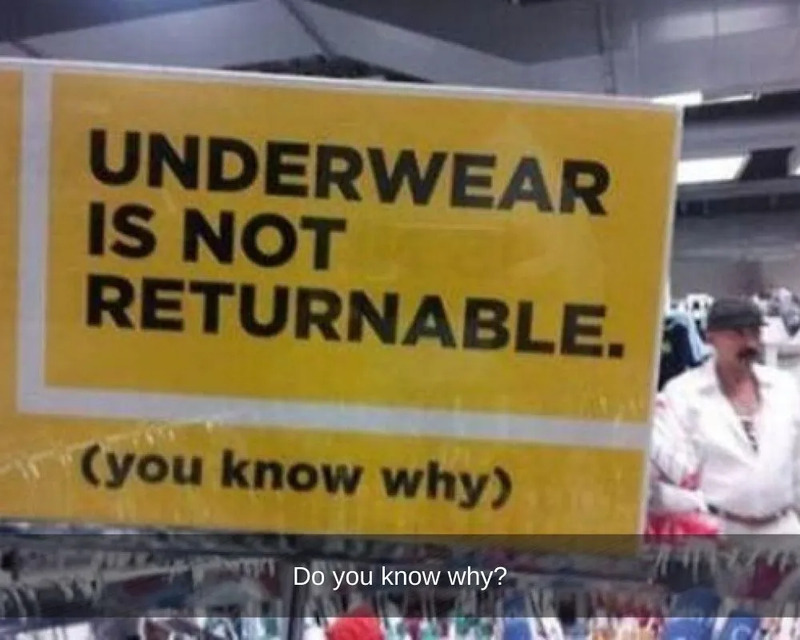 Maybe people tried to get away with returns, and their lack of understanding prompted the store to explicitly state their policy, with a 'you know why'. So no matter how creative your reasons, don't even bother trying to sweet-talk your way around this one!
Welcome Back! Slice of Cake!? 
Are you ready to get the stab of surprise? When Max from 2 Broke Girls returned to the office after recovering from being stabbed, his sweet coworkers arranged for a very special "Welcome Back" cake.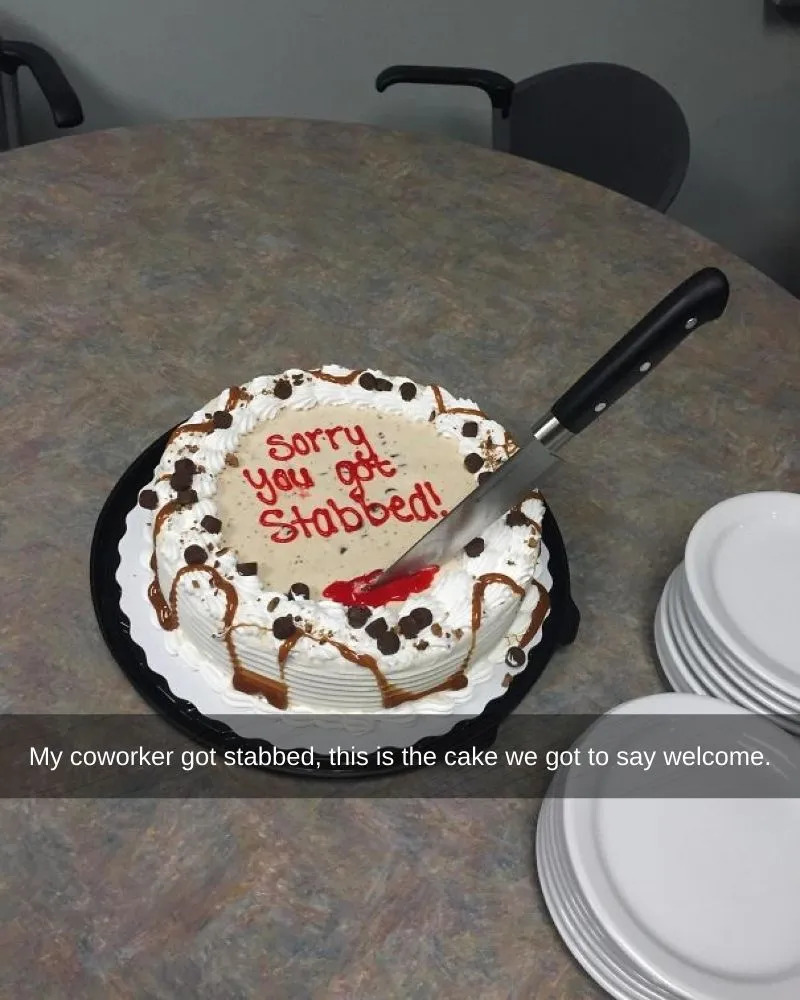 In addition to the delicious chocolaty layers that made up his sweet treat, Max found something even more shocking – an icing graphic reminder of his stabbing, complete with a knife and blood. This worker felt the same love from his coworkers when he returned to work after being stabbed himself!
Copywriter Takes Caution Sign to a Whole New Level!
When most people are asked to write a warning sign they'd simply convey the intended message. But ask a copywriter and their creative juices take over.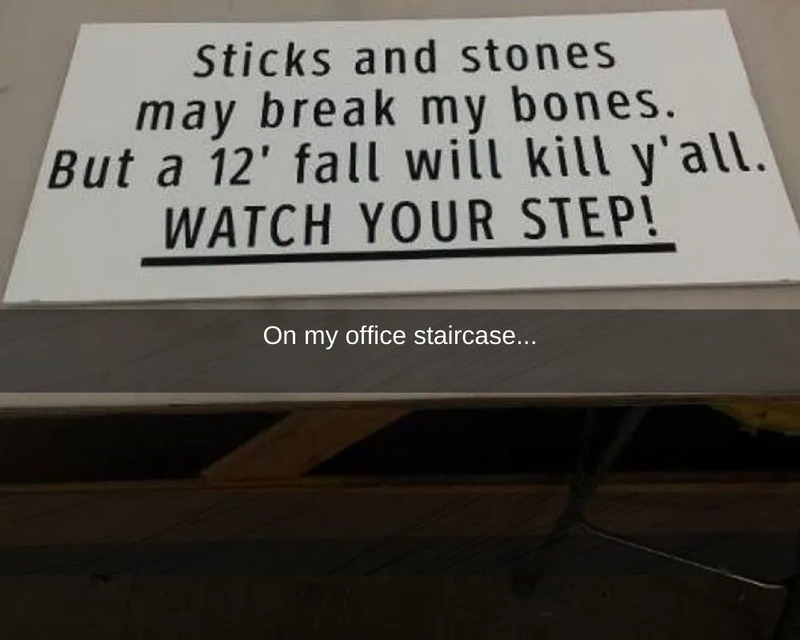 Check out the amusing and effective sign this copywriter created. How creative could you be if you were tasked with this!?
Beware! Mr. Bean is Lurking in the Office Washroom! 
How would you react if you entered your office washroom one morning, to find none other than Mr. Bean lurking right behind you?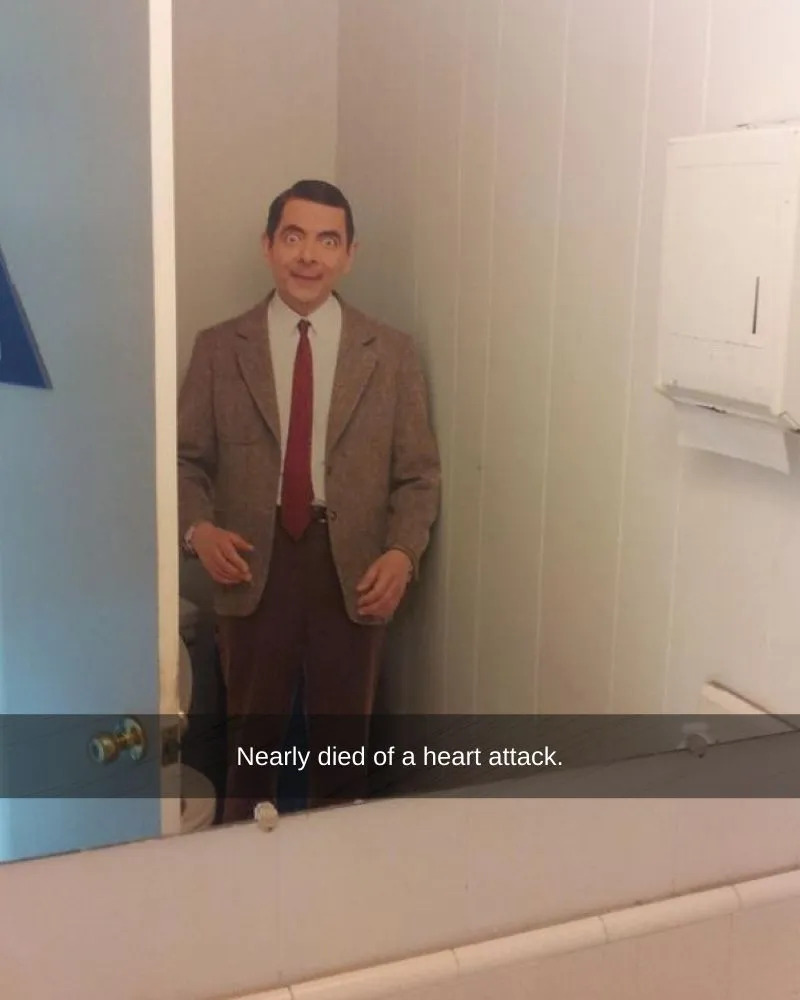 Perhaps not as spooky as Wednesday from The Addams Family, but this strategically placed cardboard cutout of Bean peering over their shoulder sure shocked one office worker.
Tying Down the Wire Cutter
We've all heard stories about offices where the office supplies vanish into thin air. Well, believe it or not, it's a real problem that costs corporate America $50 million each year! That could explain why the boss behind this picture was so frustrated.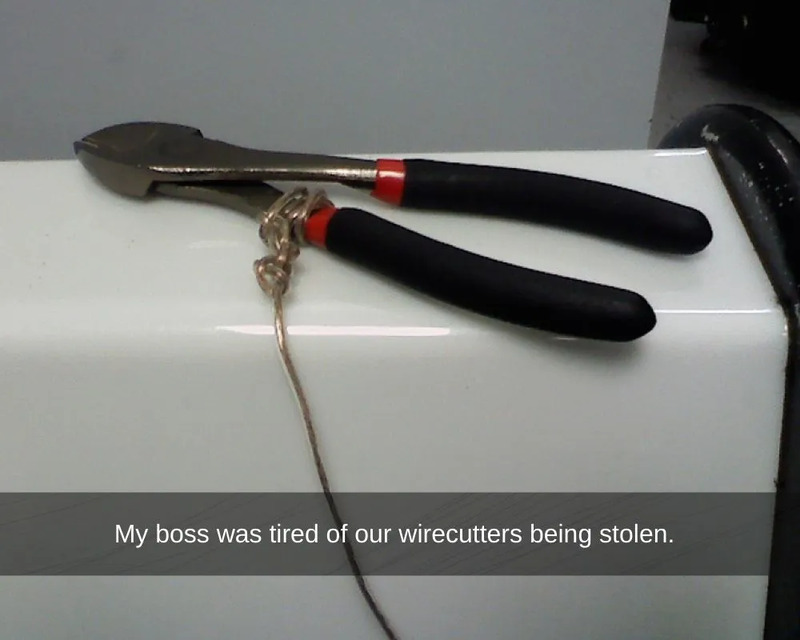 Apparently, sick of having their wire cutter stolen, he decided to take this preventative measure – he tied the wire cutter down with… wire! We can only imagine peoples' reactions! But one thing is for sure, this was one hilarious fight-back against office theft that won't be forgotten anytime soon.
The Big Boss's Smirk of Sabotage: A Cake Too Good to Resist! 
Do you have a competitive boss? Does the thought of losing make them sweat? If so, check out what this boss resorted to in order to outdo his employee in their weight-loss competition.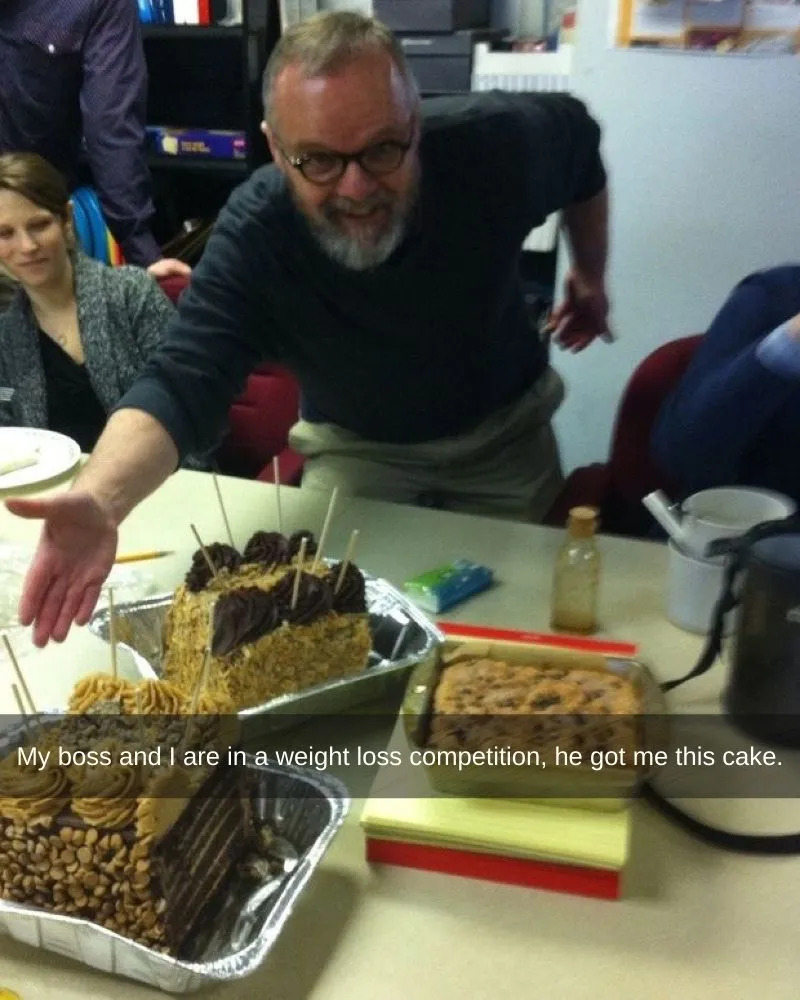 On a quest to derail their weight loss journey, they very generously brought a delectable cake for their dear employee to indulge in, and so gain a competitive edge.
Stop Ruining Office Supplies…And My Life Too!
It seems that one office has taken the 'don't misuse office supplies' memo to a whole new level! Notices like these are all too common in the workplace, but this particular team of employees saw it as an opportunity for some friendly competition… and started listing a variety of things that should not be ruined.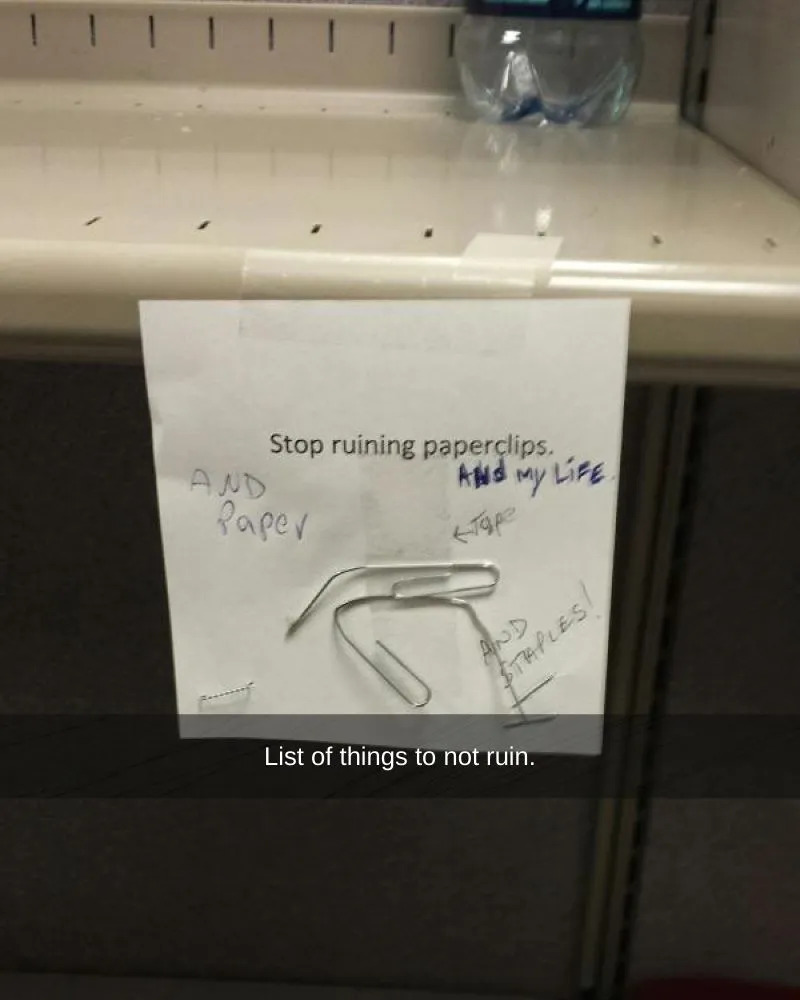 But the crown goes to this employee who mischievously implored his colleagues not to ruin their life! It's definitely one way to keep morale high while also reminding people of proper office etiquette when it comes to supplies.
Don't Dive in Where You Don't Belong! 
We're all so used to diving into the pool, that sometimes we need a reminder that it's not okay to jump into every body of water we come across. But what could possibly have inspired this cheeky sign?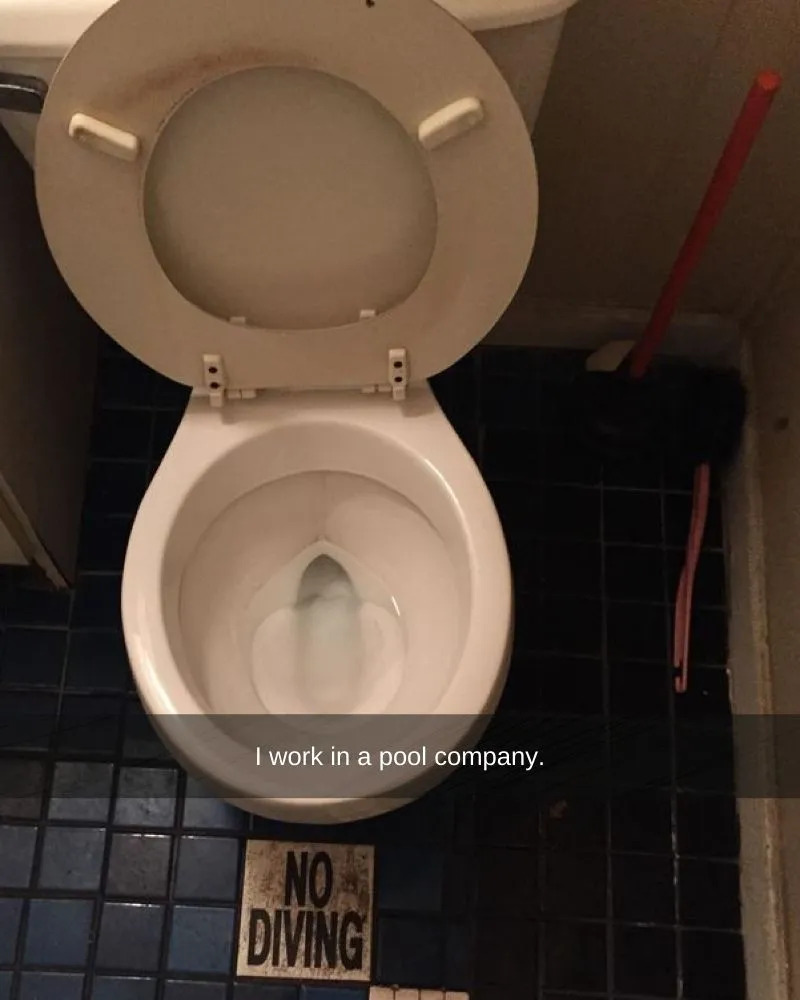 Was it a joke by someone working at a pool company, or was there an incident in the past that necessitated a warning like this? Whatever the case, it's great to have bosses with a sense of humor! 
Boss Gets the Leonardo Treatment! 
It's a feeling everyone knows all too well – you're hard at work while your boss is away on holiday, it's enough to set your jealousy meter skyrocketing! But one office found an inventive way of getting their own back…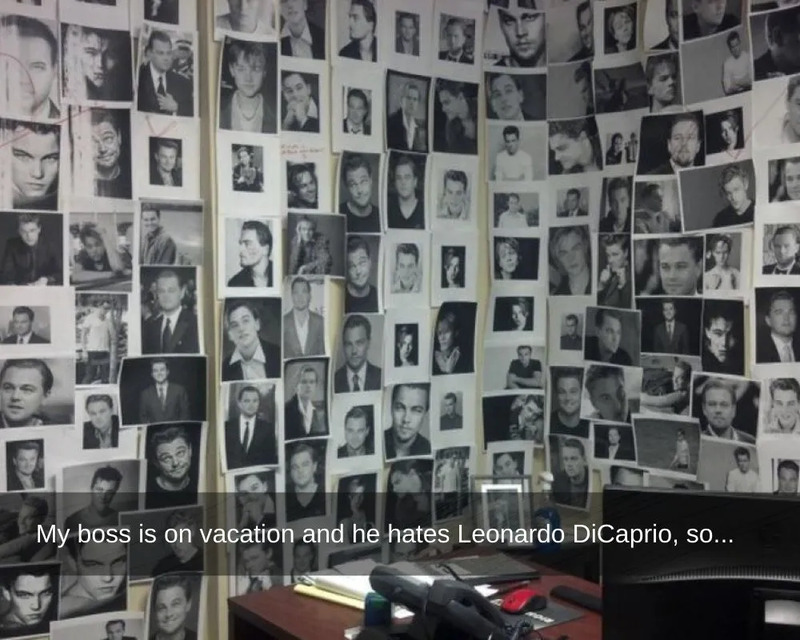 When their beloved boss was away, they plastered his office with pictures of…Leonardo DiCaprio, who their boss detests! Serves the boss right for hating one of Hollywood's best actors. 
Cleavage-Covering Conundrum: Boss Creates Outrageous Solution! 
What a situation to be in! Is this serious or an outrageous joke? This boss got creative when it came to covering his employees cleavage and came up with the following unusual solution – taping her shirt!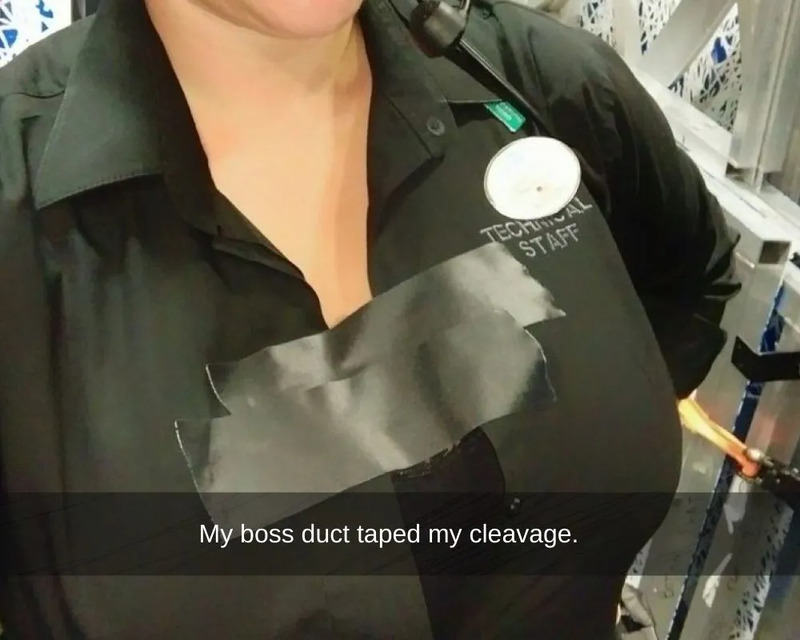 If this was done as an act of lighthearted fun then they deserve full marks for creativity. But would you be okay with these kind of antics from your boss? It's certainly something to contemplate!
Standing in the Shoes of Dinosaurs
Imagine a world where dinosaurs not only still exist, but have evolved to become something similar to humans. For some paleontologists, their love for dinosaurs is so strong that they mimic this scenario at work.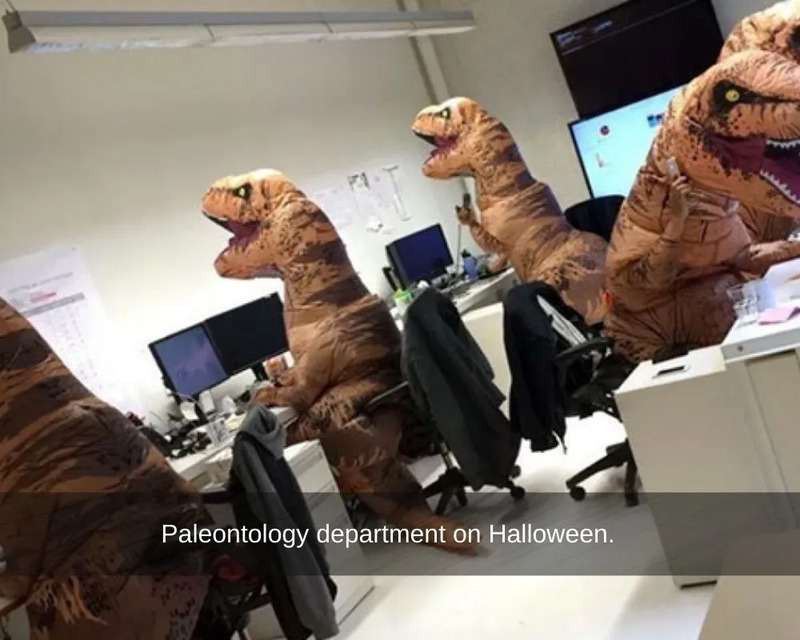 These dedicated paleontologists love their dinosaur subjects so much that they've taken their enthusiasm to a new level. To better understand how the giant creatures think, they are literally putting themselves in their shoes (or should we say claws). 
Tales of a Corporate Philosopher: Is This the Modern-Day Michael Scott?
Have you ever felt like your career ambitions were better suited to philosophy than a 9 to 5 desk job? Then meet the employee whose thoughts recall those of The Office's Michael Scott – strange yet strangely profound.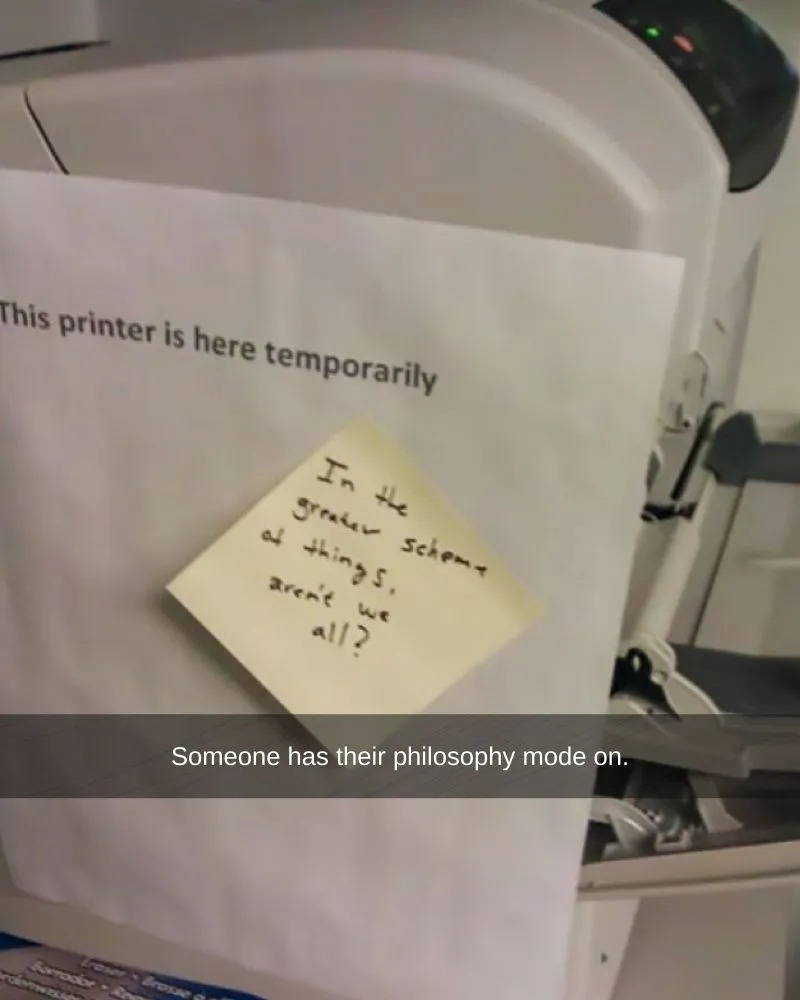 With perhaps far too much time on his hands, this corporate philosopher will have you questioning the transient nature of life while also getting a kick out of his comedic musings. 
The Post-It War That Took the Office By Storm! 
Boredom in the workplace can be a real drag, but not for one New York City office! After someone casually stuck some Post-Its with the word "HI" on an office window one day, what started as a bit of fun quickly escalated into an epic competition amongst nearby offices.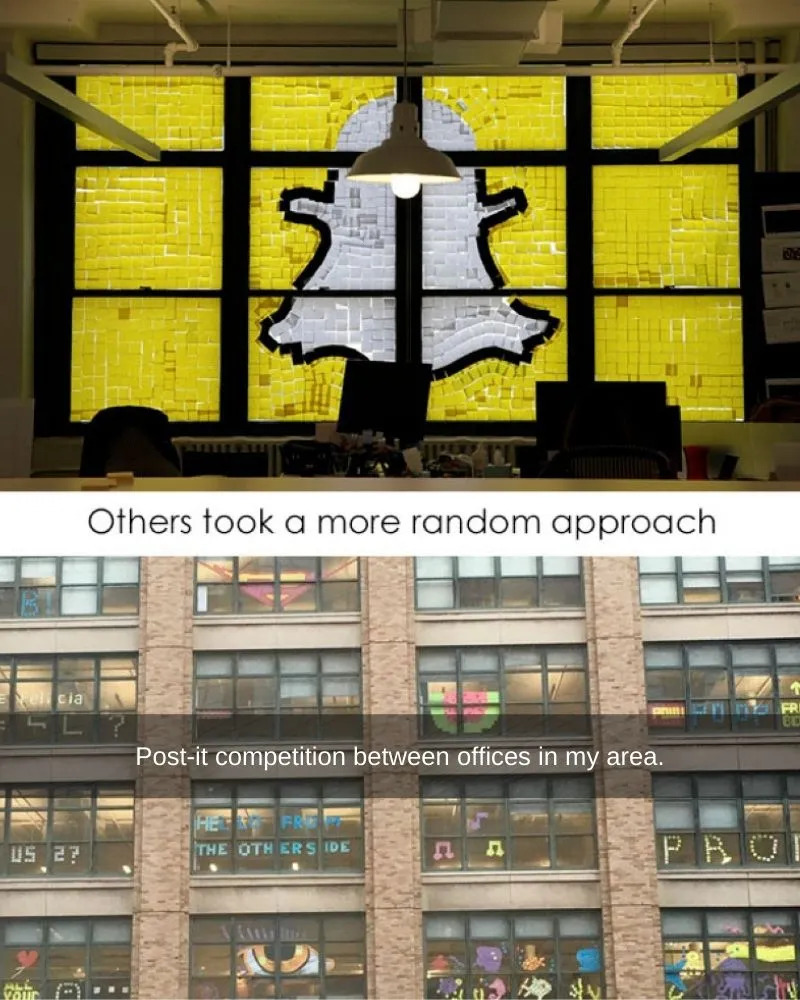 Words like "SUP" were added to existing designs, until eventually offices began competing to create even more creative displays – one building even managed to make a full Snapchat logo using only Post-It notes! However, there was no denying who won when Havas WorldWide created a showstopping mic drop graphic across seven floors. 
Fulfill Your Childhood Dreams: Be a Pirate! 
As kids, we had wild and vivid imaginations. From the aspiring astronaut to intrepid pirate. In a YouTube video, some kids were asked what they wanted to become when they grow up, and, unsurprisingly, being a pirate ranked highly.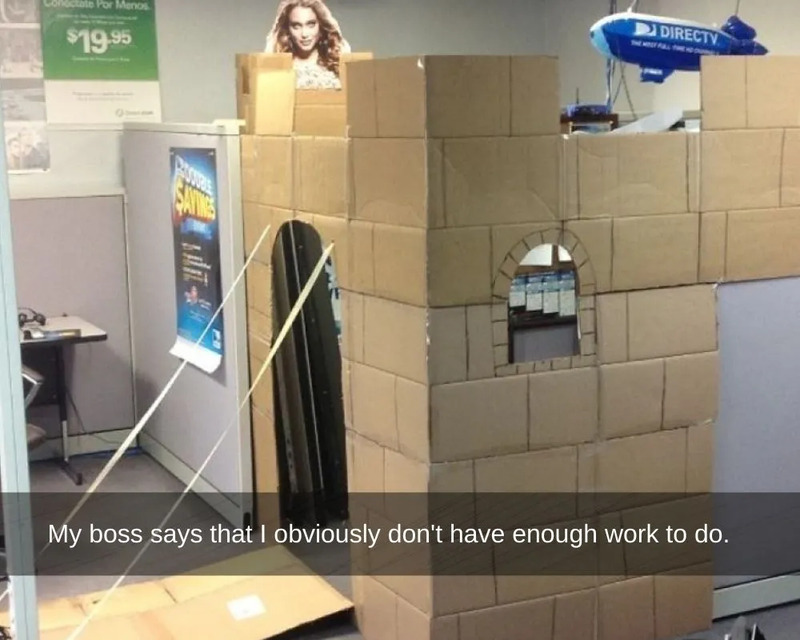 Looks like our hero in the picture also dreamed of being a swashbuckling pirate at one point. Kudos to them for devising a way to keep their childhood dream alive with this creative display. So why not join today's modern-day buccaneers? Go ahead and piratize your work life with imagination and creativity!
The Surprising Side Of Programmers 
Programmers are known to be serious folks who stay focused on getting the job done. But what if we told you that these techies also had a surprisingly amusing side to them. Well, for starters, some of them might just require you to sing a beautiful song like "Ave Maria" before they even start listening to your work-related request!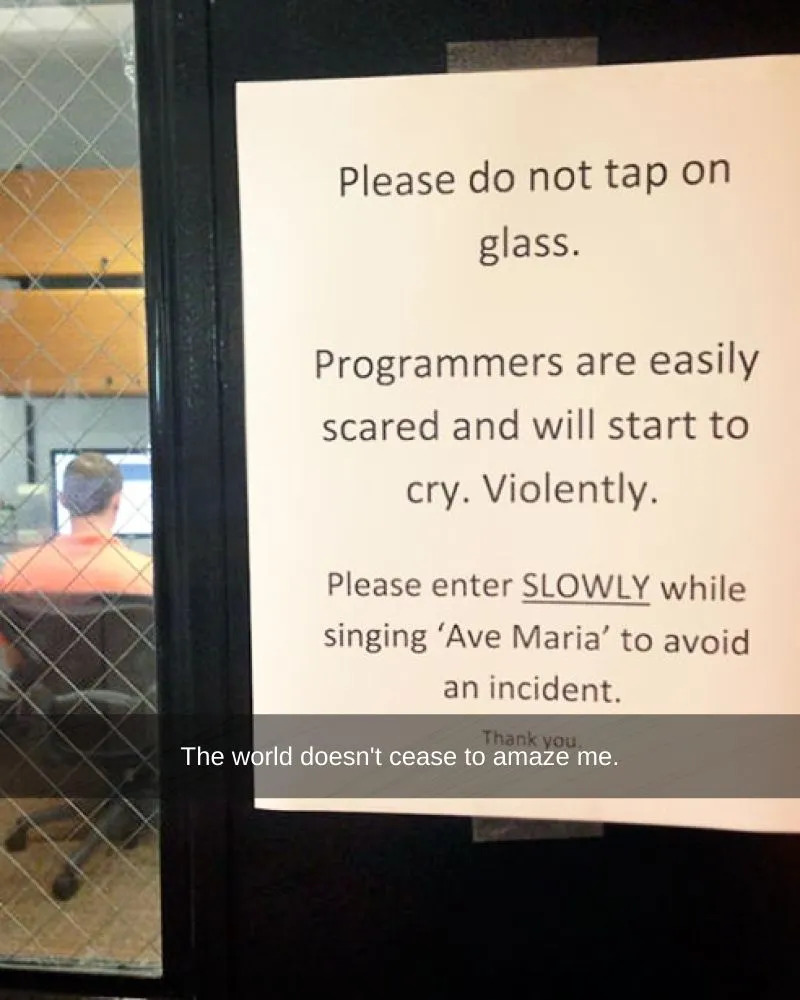 Crazy as it may sound, the truth is anything can happen with the ingenious and innovative minds of programmers at play. So next time someone asks you not to disturb their coding session, keep in mind what strange possibilities they may have in store…just kidding!
A Creative Prank on the Boss While He's Away!
When it came time for their boss to go on vacation, the employees at this office executed a brilliant plan. While Burning Man is all about art and self-expression, these clever workers decided to express their feelings about their manager taking some time off in an incredibly amusing way!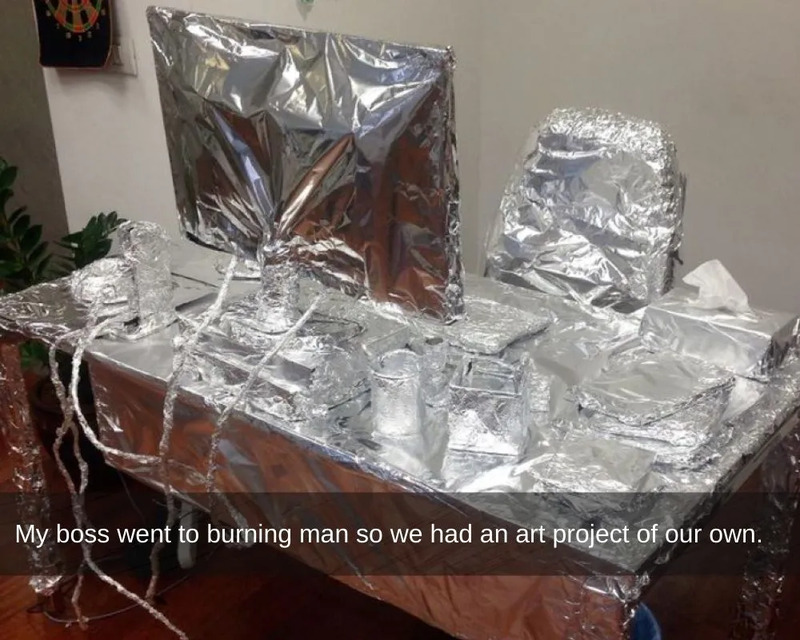 They created a funny art project of their own, indulging their creativity. It's clear they have a great work culture where employees feel safe and free enough to come up with creative ideas like this one.
The Hard Drive Eating Thief: A Modern Office Woe 
Apparently, snatching lunches is a common phenomenon in the workplace, but devouring the tech too!? We may have a lunch-thieving culprit that's taken it to a whole new level.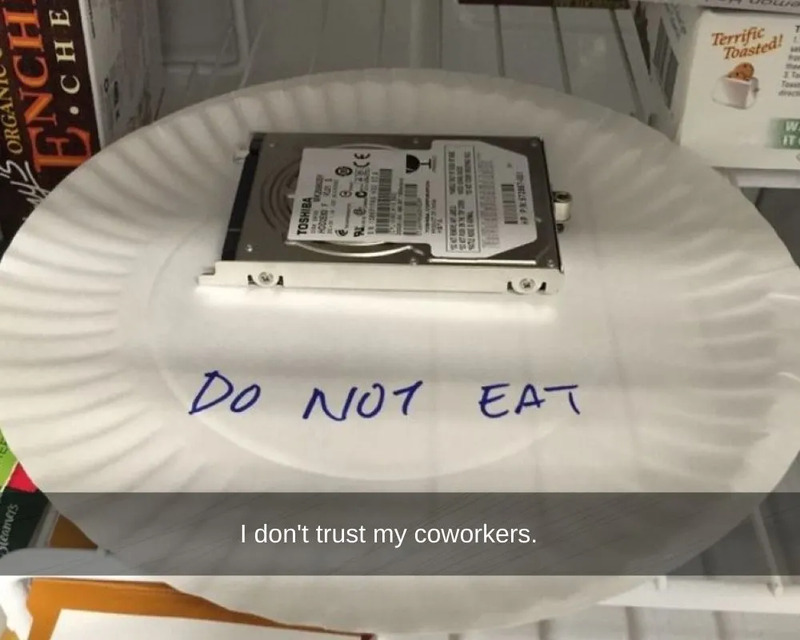 This office felt compelled to ask people to not devour their hard-drives! It seems that some people need to be cautioned not to eat their coworkers' tech as well.
Beware Creepy Googly Eyes: The Stuff of Nightmares 
You love horror movies, but the one sound that sends a shiver down your spine is that of a baby's cry. Well, this worker got the same sensation looking at pictures of her baby that her coworkers had adorned with googly eyes in this office prank!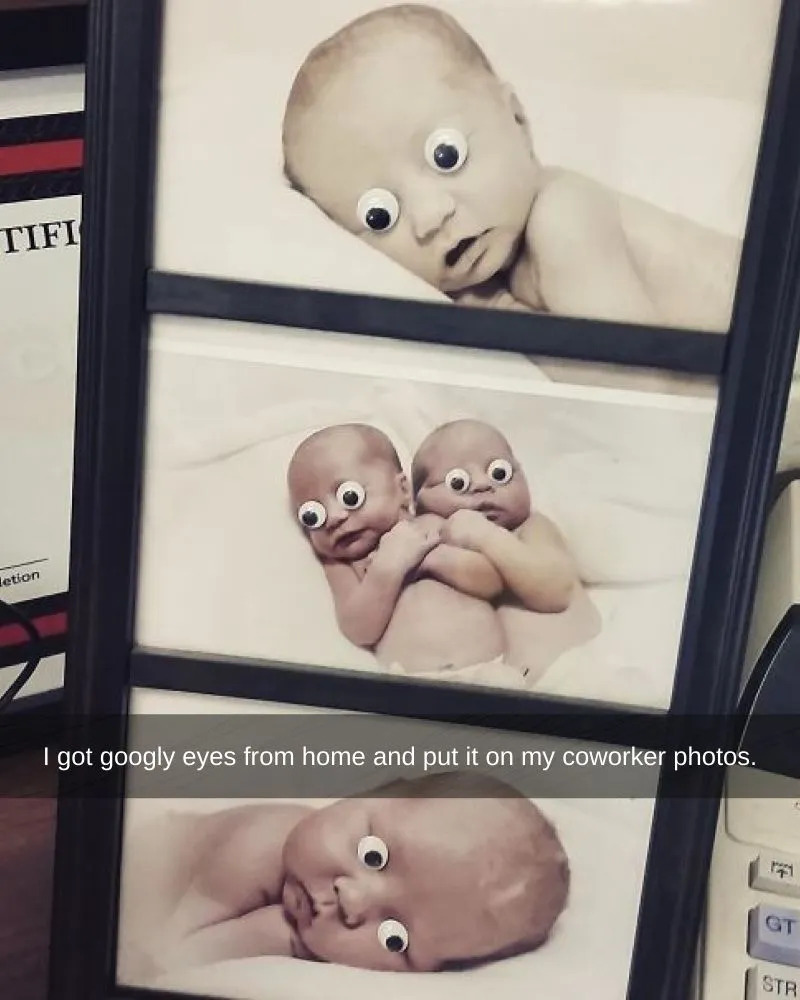 Be warned – those googly eyes may look cute, but they have an unsettling creepiness to them that will give you nightmares for days to come. Just think – your sweet little kids' faces have been replaced with these creepy characters. So next time someone tries this on you, make sure to exact your revenge!
Men, Man, Ben
It was time for a bit of fun at work! The women in this office decided their lone male coworker could have his own bathroom and renamed it from Men to Ben. Talk about exclusive! Imagine being that lucky guy, having an entire bathroom at work to himself.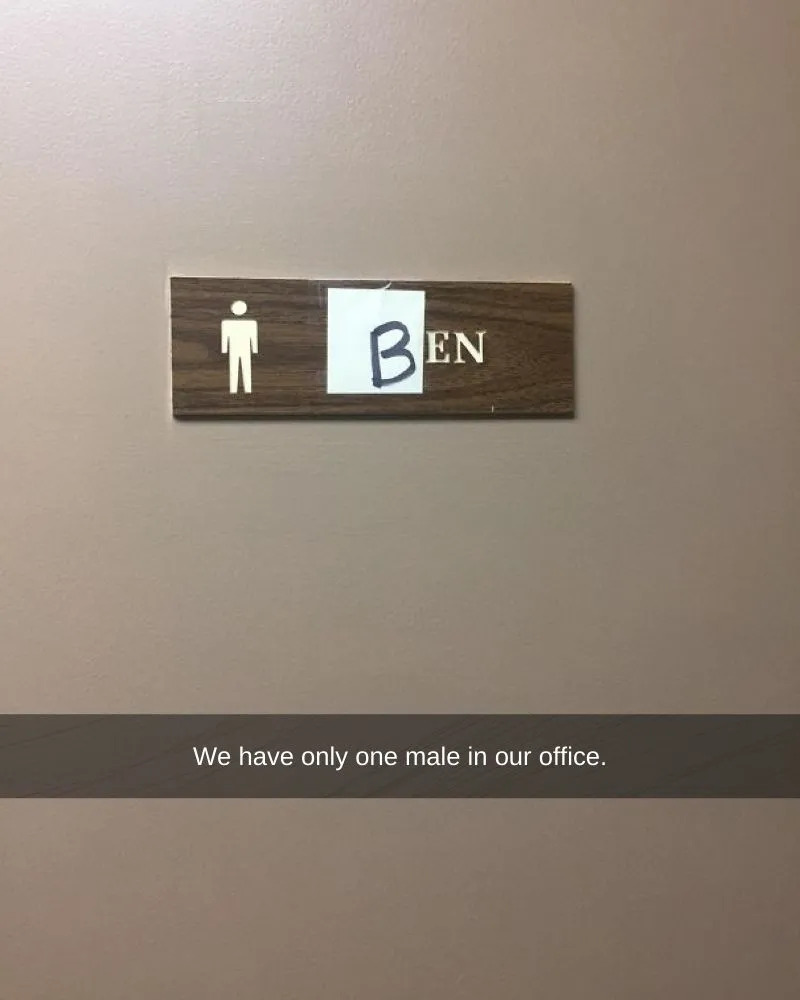 But jokes aside, there might be something special and progressive happening here having a female dominated office. Plus working in an office dominated by women sounds like a blast, bringing more fun and creativity into play than ever before.
Escape Dreaded Mediocrity
Feeling doomed in your job? Stuck in a monotonous life but too scared to take control? Don't let this anxiety keep you from achieving greatness! Take control of your destiny and revamp your resume now. Learn new skills and blow the competition away.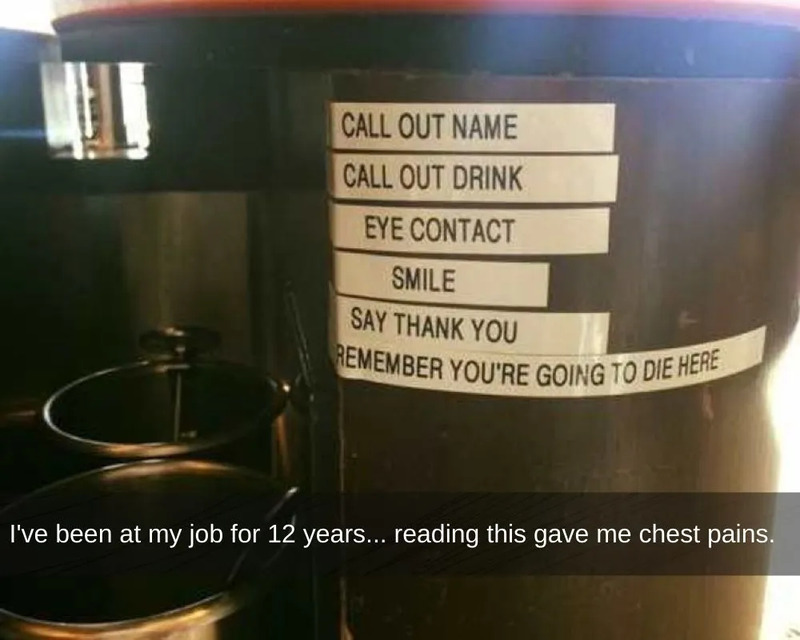 If a simple coffee machine can remind you that you are stuck forever, then it is time to make some changes! Make sure you don't spend another dull moment at work – this is a call for change, so don't be hesitant. It's never too late to take charge of your future – make moves now before it's too late!
The Funniest Way to Feel an Earthquake: $1 Googly Eyes! 
Who would have thought that the portal to an earthquake's prediction was just a dollar away? Forget about shelling out hundreds of dollars on expensive alarm systems – now you can get creative with a pair of googly eyes and get the job done. Simply stick two funny eyes onto your walls and watch them tremble in the event of a quake.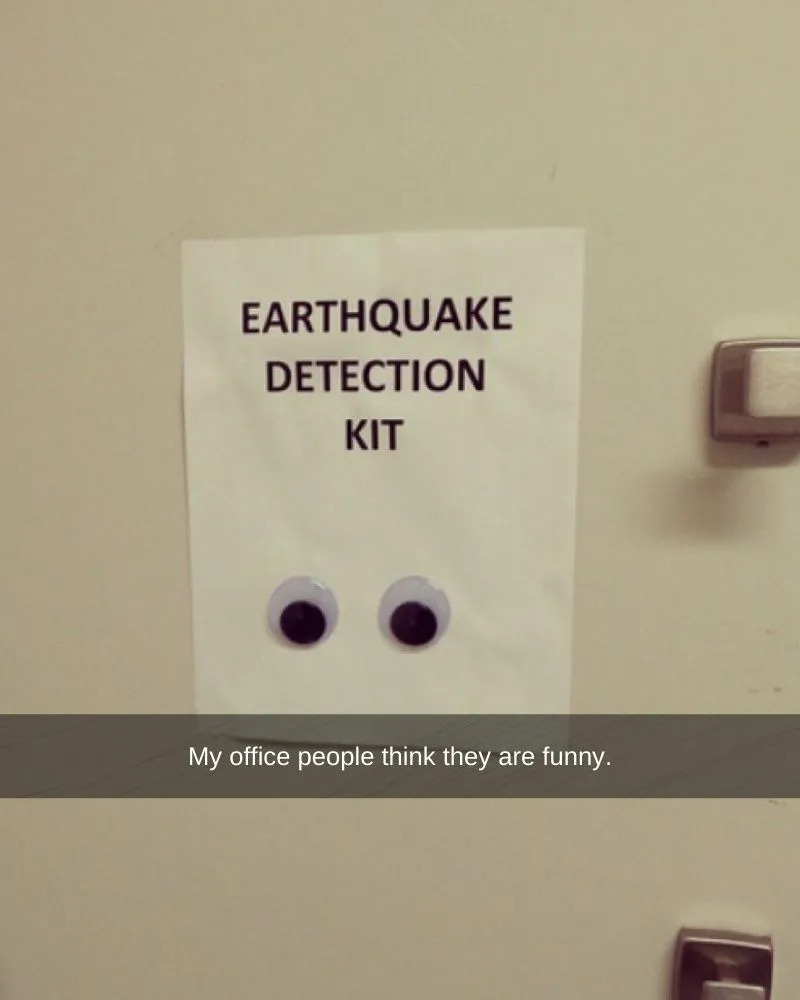 After all, nothing beats the innovative power of this office workers' creativity! So if your world is shaking, no need to fear – just reach into your pocket and grab yourself some googly eyes to save the day!
Creepy-Cuddly Combinations: An Artist's Creative Take on Workplace Fun 
Can you imagine your boss or coworker as half-human, half-animal? Well, that's exactly what you'll find in this photoshoot! With a mix of creepy and cuddly creatures transforming everyday workers into something extraordinary and hilarious, it's sure to bring a laugh to the office.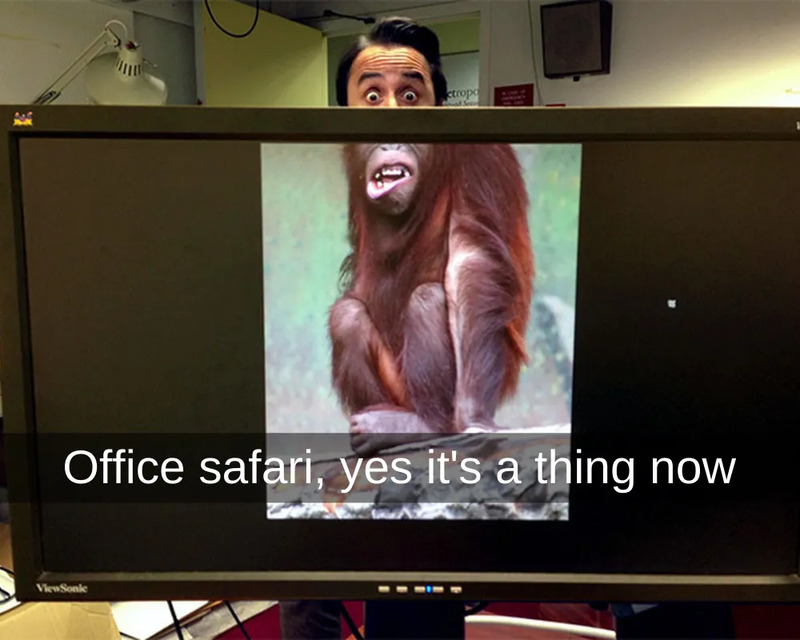 Do these creatures reflect the personalities of their human counterparts, or just a bit of fun!? We may never know, but whatever the case may be, these outlandish combinations make for some very exciting artwork that won't soon be forgotten! So let loose and embrace your inner child with these unique creations.
The Sweet and Sour Farewell Gift! 
What do you do when your boss gifts you a farewell cake but also wishes you to fail? It's clear they are not too pleased that you're leaving, but was it meant as a joke or out of spite?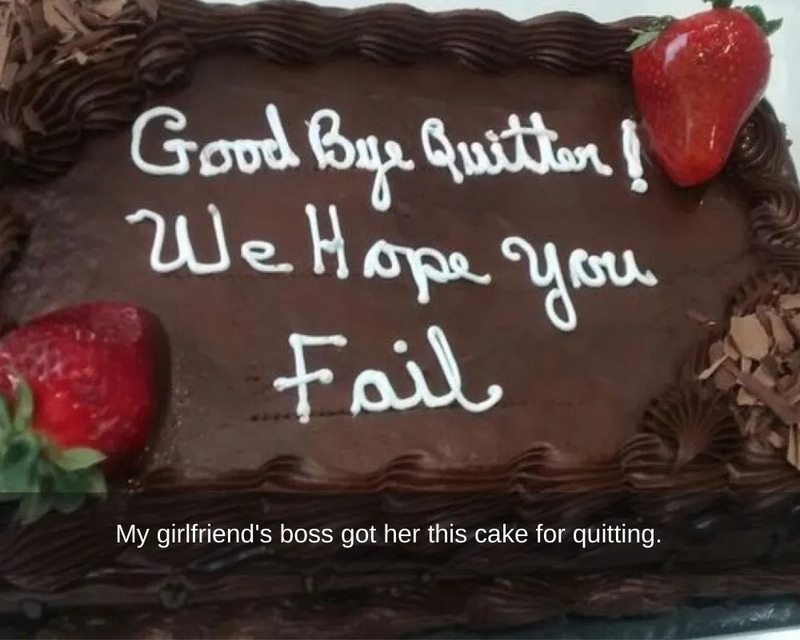 In this case, the best response might be to thank them for their kind gesture while making it obvious that even if they don't wish it, you will still succeed. Or maybe just have some fun and come up with a witty riposte of your own.
Good Old Dad Jokes!
Are you ready to take a hilarious journey into the world of dad jokes? If your answer is yes, then get ready for some serious, side-splitting laughter! This witty office worker gives us his twist on this comedic genre.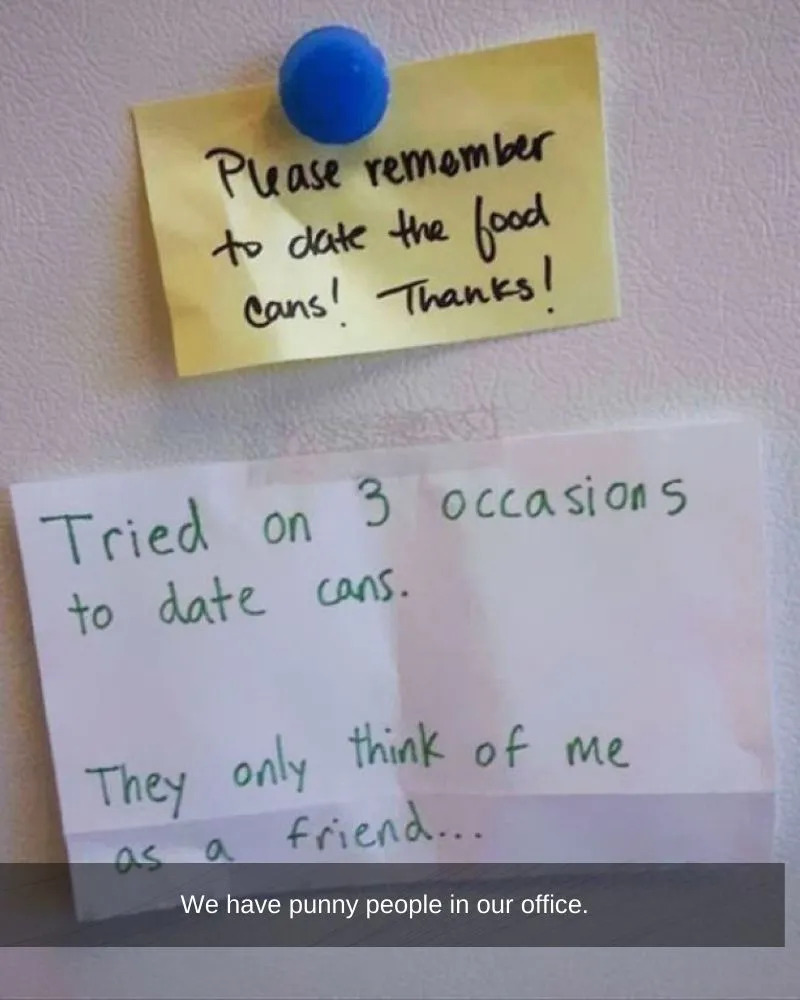 So, whether you find them funny or corny, you have to admit that there's something endearing about these jokes. The word play has its timeless charm, so why not get in on the fun and come join us in this rollicking ride through a fatherly world of puns and humor.
Have a Little Fun With Passive-Aggressive Office Reminders 
Wondering how to tell your coworker they're not being very productive? Look no further! This passive-aggressive reminder is a fun and creative way to give feedback and remind people of their tasks.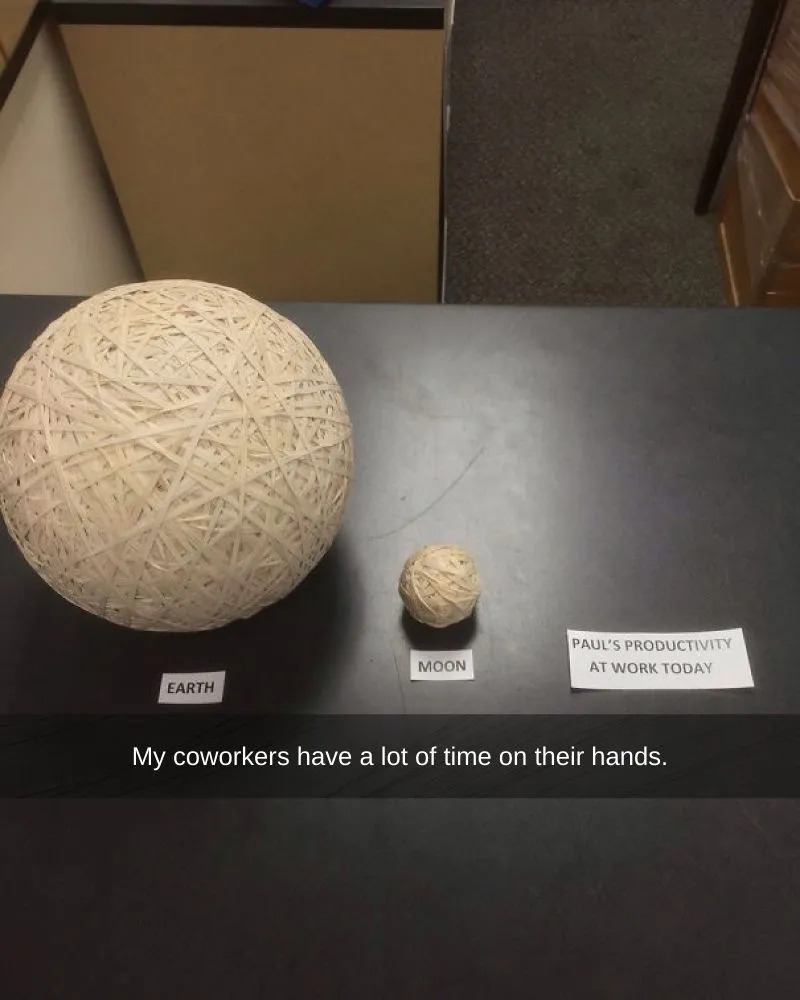 With this approach, you can get away with things without ever having to be too direct. It's an excellent way to avoid confrontation or tension. So get creative and have some fun with some creative office reminders today!
Creative Signs and Unexpected Twists 
Have you ever noticed those quirky signs that reveal a hidden meaning as you drive by? Some of these boards contain pure creativity, while others might be pointing to something experienced personally.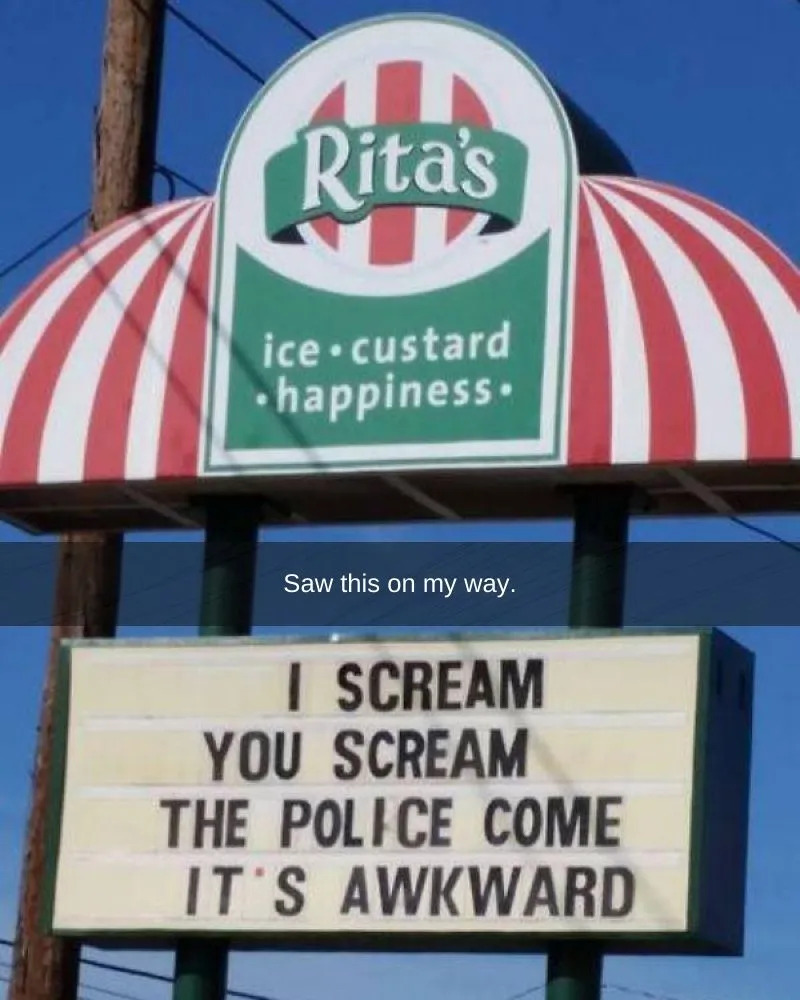 However, one thing's for sure – it can be loads of fun reading them as we travel. Who knows, maybe you've even come across some of these that tickled your funny bone too! So keep your eyes peeled and enjoy your next road trip! 
Where's Ted!?
Are you tired of being in the same orbit as someone who is famous and people constantly asking you where they are? Well this person had the perfect idea! They created a flow chart that simplifies things for anyone wanting to know the whereabouts of their famous companion.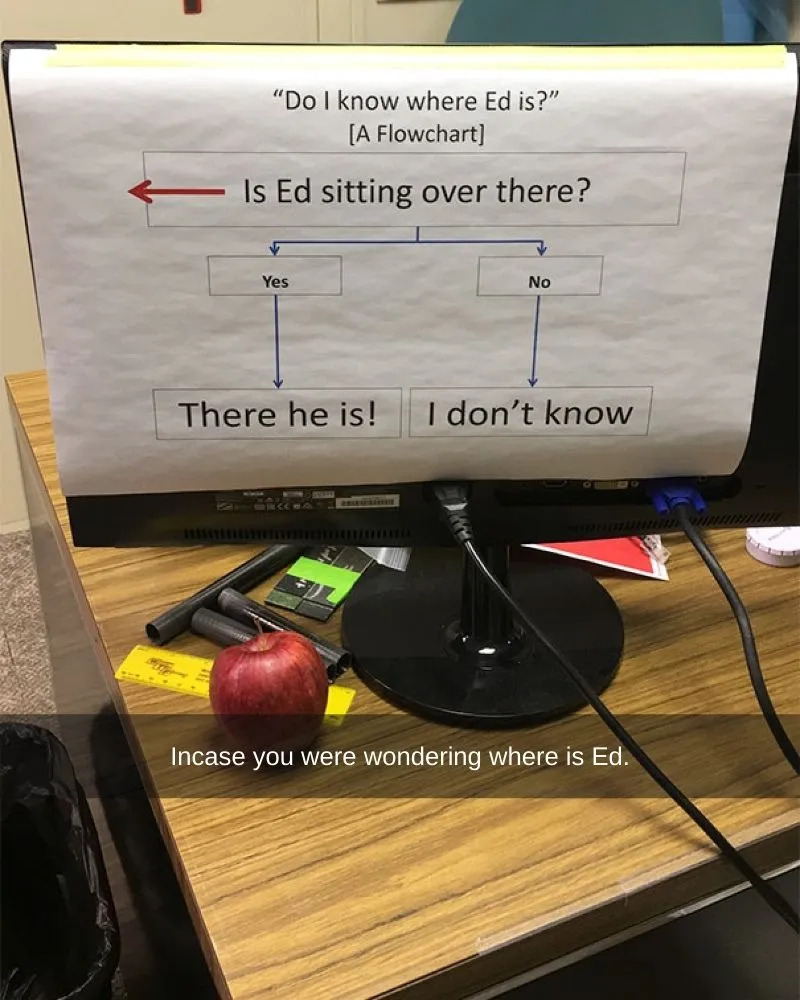 If Ted is in his seat, fantastic, you don't need to ask him. If he's not? Then don't bother asking! This simple yet ingenious solution deserves recognition. So, if you find yourself in the same situation, use their amazing hack and watch it work wonders!
Don't Shoot!
Are you in need of a "shot"? No, we don't mean the kind that's fired from a gun! Check out your local Walgreens for all your vaccine needs!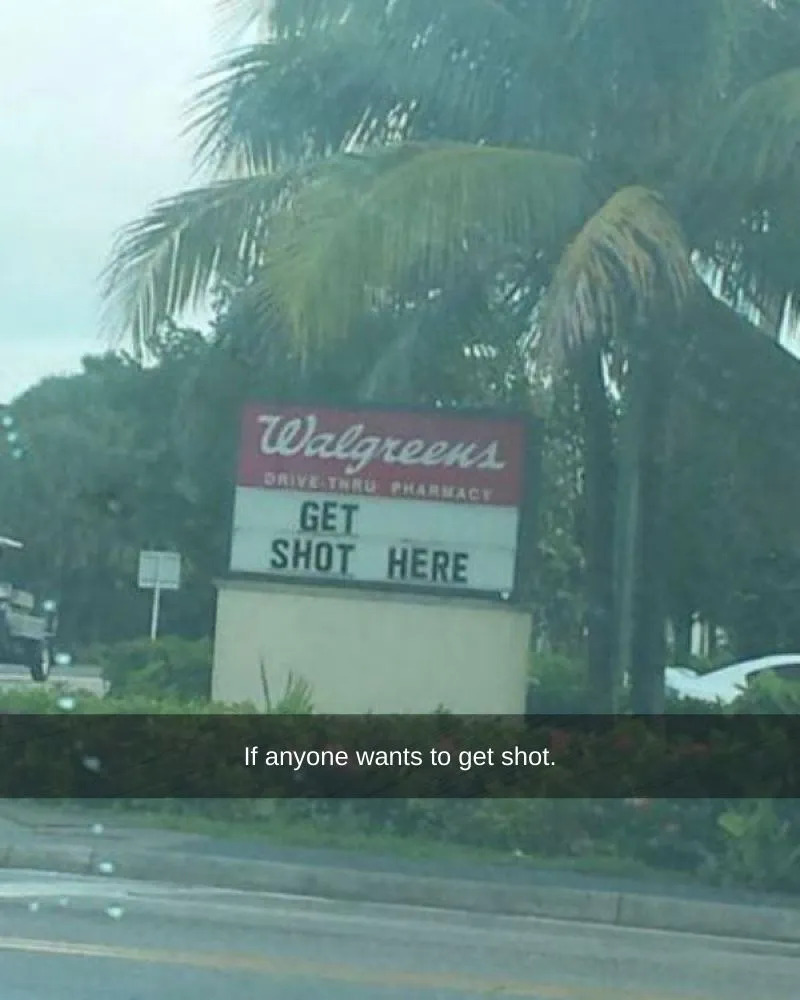 This hilarious sign was recently spotted, with one key work cleverly covered up. Tetanus? Polio? Insulin? Whatever's necessary – no one knows it better than Walgreens! So go ahead and get a shot of the best kind.
A Wine Artwork in the Office? It's Not What You Think!
Have you ever been to an office party where things got a little bit wild? If you're a fan of The Office, then chances are you remember Meredith Palmer and her memorable (and slightly embarrassing) moment when she set her hair on fire!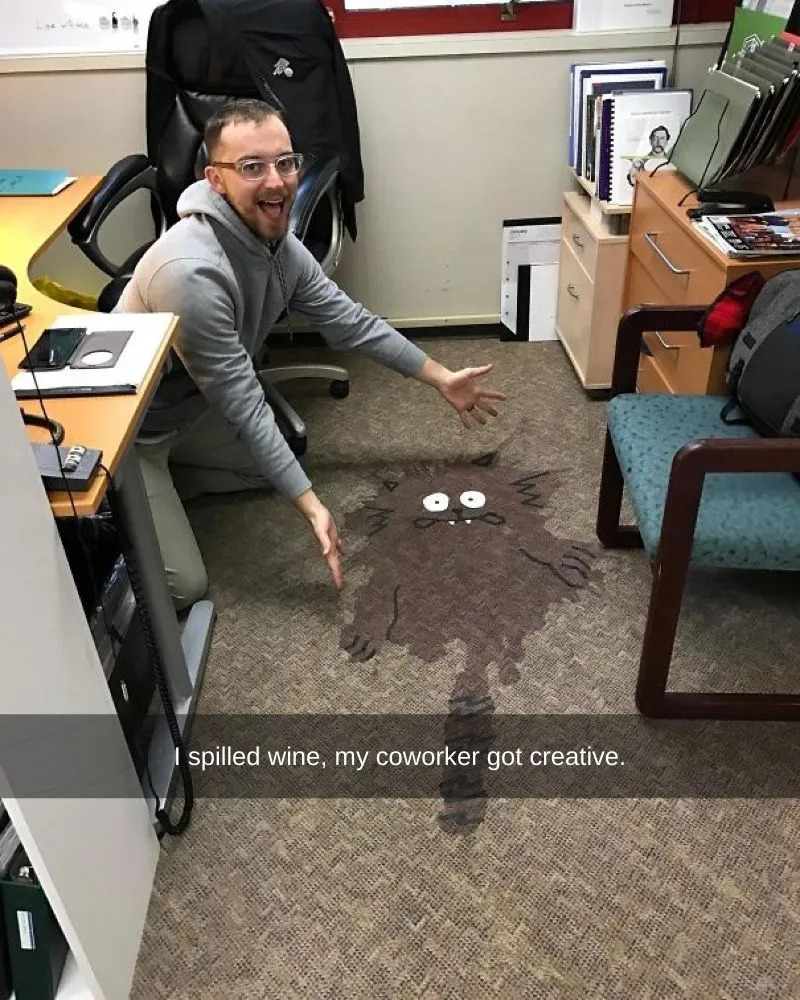 But it looks like this guy may have had his own spin on that experience. Spilling wine all over the office floor was no big deal – until his friend decided to turn it into some creative artwork! Maybe he should hire him as their new interior decorator. 
Funny, But Not Quite What I Had in Mind!
Things can get pretty interesting when your boss has a sense of humor and is a miser. Imagine asking for an iPad and receiving an "Eye Pad" instead! One of those don't know whether to laugh or cry moments! 
But take a moment to appreciate the humor here. It might not have been what you asked for, but it's funny nonetheless. So don't despair if your wishes come true in unexpected ways – embrace the silliness!
Time to Go and Let Your Customers Know! 
When the sole storekeeper needs a break, what's the plan? It might be embarrassing but why not take some inspiration from this clever individual who placed a sign on their shop door alerting customers to their bathroom break.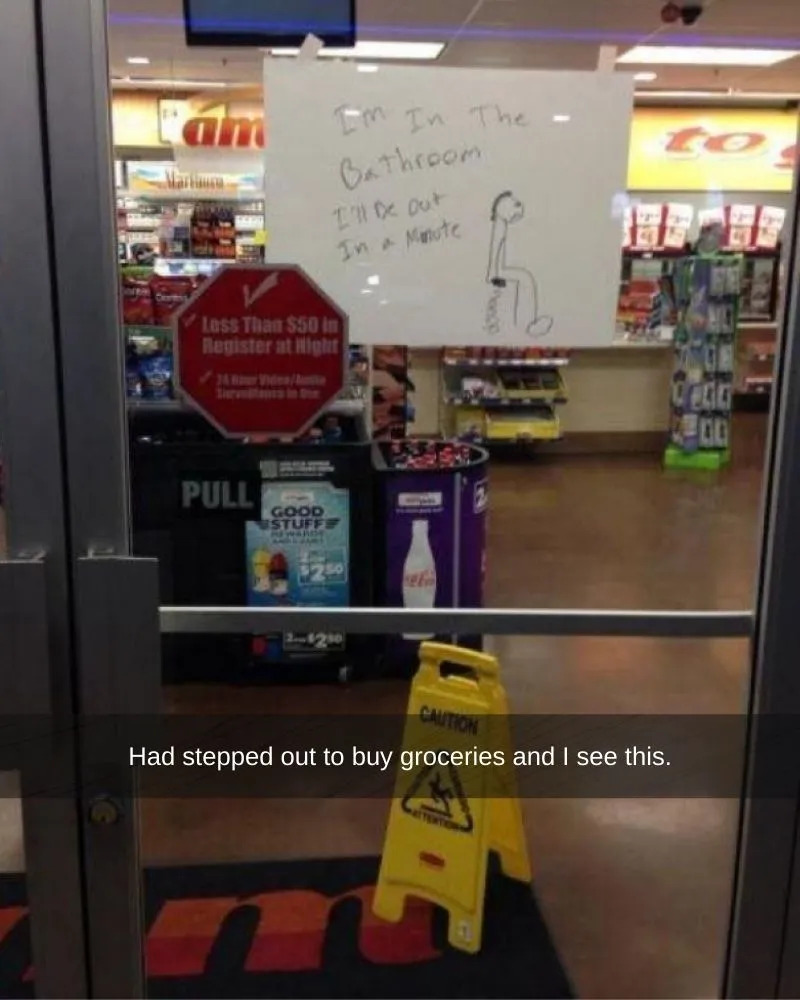 The accompanying image of him lounging on the toilet seat adds a bit of humor for those waiting in line! We can only imagine what the boss would think if they were to see it! Until then, let's keep it our little secret.
Possessive Mug Tales
Do you remember as a kid zealously guarding your favorite mug like it was made of gold? It was probably adorned with an image of your favorite cartoon character and no one else could use it.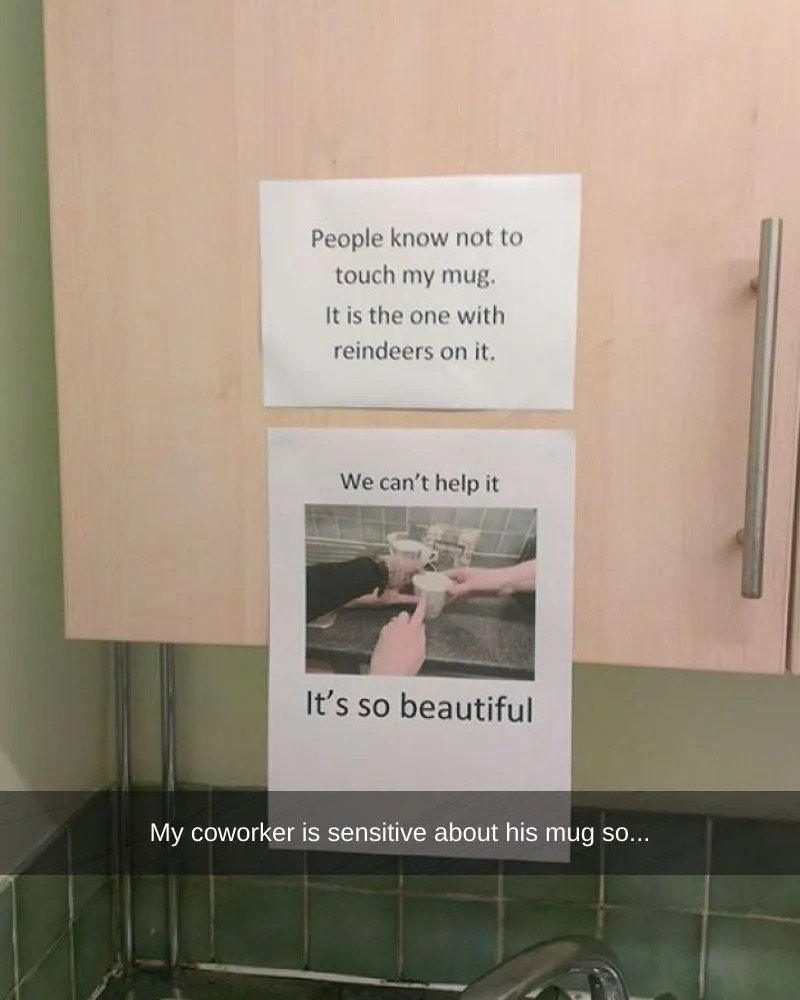 Well, it looks like some adults are still protective of their mugs! Check out the warning this precious employee put up to deter others from their reindeer mug, and the hilarious response of their colleagues!
Oh No! The Unbelievable Excuses some Employees give for Taking a Day Off!
If you've ever been in a position of authority, you know just how creative employees can be when it comes to excuses to take a day off. Whether their car broke down or someone was hospitalized, these tired old excuses are becoming obsolete.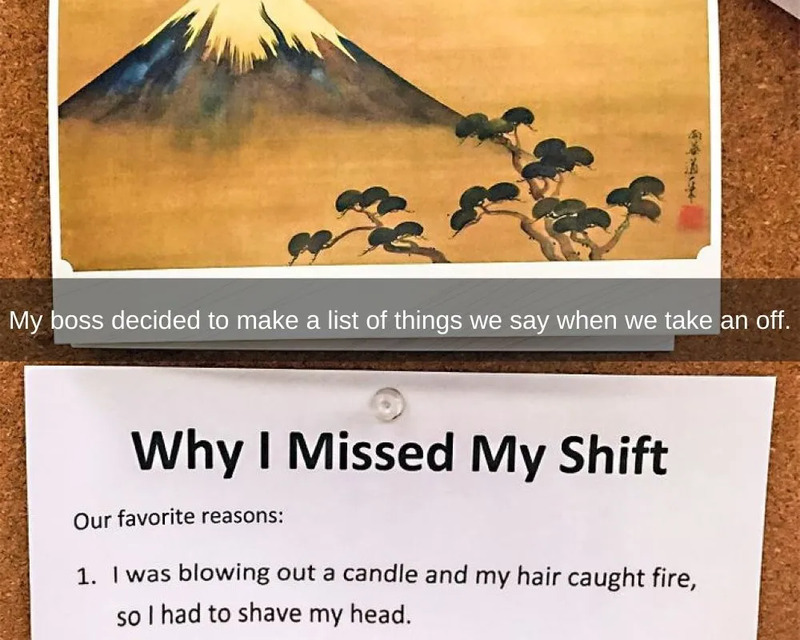 But now and then, there are some truly creative and outrageous reasons that leave the boss wondering whether to laugh or cry! From missing trousers to being abducted by aliens – no excuse is too crazy these days! But one thing's for sure – these innovative excuses always make for an entertaining story around the office coffee machine.